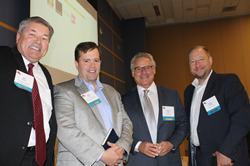 DANBURY, Conn. (PRWEB) October 24, 2019
The concept of "eds and meds" is not a new one, but innovative developers and planners are leveraging these powerful economic engines to fuel growth in towns and cities throughout the New York metro region.
"Eds and meds are driving a large chunk of the economy," said Joseph McGee, vice president of Public Policy and Programs at The Business Council of Fairfield County.
McGee moderated a discussion titled "Economic Development Hotspots" Oct. 10 at Western Connecticut State University in Danbury. Real estate and business leaders from New York and Connecticut discussed public and private developments in the region and their impacts on communities.
Martin Berger, development manager with EFG/Saber Heritage SC, LLC of Armonk, N.Y., outlined the $300 million mixed-use project – Hudson Heritage – he's developing on Route 9 in the Town of Poughkeepsie, N.Y. The 156-acre property, formerly the site of a state psychiatric facility, is neighbored by a solid base of eds and meds – Vassar Brothers Medical Center, Health Quest, Vassar College and Marist College.
"Our predecessor received approval for 350,000 square feet of commercial space and 750 residential units," said Berger. "But then the question is: OK, you have the general approval, what do you do with it?"
Berger met with representatives of the college and health care providers in the corridor and asked about their needs. "They are bringing in new doctors, new staff members, new professors, and they need quality housing – multifamily, townhomes, retiree housing," Berger said. "We showed how colleges and employers can no longer rely on their own assets to attract customers and quality staff – they need nearby amenities and quality housing to attract the best and brightest. And they agreed."
Hudson Heritage is being designed as an intergenerational community with 750 townhomes, rental apartments and assisted-living units. The property will feature a 150-room hotel and conference center; 350,000 square feet of commercial and retail space including a ShopRite supermarket, shops, restaurants, child care and a fitness center; 40,000 square feet of urgent and primary care medical facility/office space; and a 24,700-square-foot education/performing arts center.
"The uses are exactly in line with what the college and health care providers requested," said Berger.
The grounds will have walking trails and more than 60 acres of open parkland. Charter Realty & Development of Westport, Conn., is handling commercial leasing. Once completed, Hudson Heritage will create 700 permanent jobs and generate $8 million in annual property taxes, including $2 million to the town.
"I was surprised how quickly the users are stepping up," Berger said. "I thought originally this would be a 5-7 year lease up or sell out, and it could potentially be half of that."
Joining Berger on the panel were Peter Cordeau, president, Norwalk Hospital; Kenneth Kearney, founder and president, The Kearney Realty & Development Group of Carmel, N.Y.; Thomas Madden, Director of Economic Development, City of Stamford; and Mike Oates, President and CEO, Hudson Valley Economic Development Corp.
The panel agreed on the need for more housing options in the region. Cordeau also cited improved rail transport as a key challenge in luring talent. The hospital is a member of the Western Connecticut Health Network, which merged with Health Quest to form Nuvance Health and includes seven hospitals in the region. "We have 1,000 job openings within the Nuvance system," Cordeau said. "If we want to attract more talent to this area, we need to offer housing and access to more efficient transportation."
"We're going to see more investment in rail," McGee added. "Economic growth is tied to rail."
The program was presented by the Construction Institute/University of Hartford and the Society for Marketing Professionals New York-Westchester Hudson Valley Affiliate.
About EFG/Saber Heritage SC, LLC
EFG/Saber Heritage SC, LLC is a joint venture between Saber Real Estate North, LLC and EnviroFinance Group, LLC. Armonk-based Saber Real Estate North is a fully integrated real estate development company specializing in retail, residential and mixed-use projects. EnviroFinance Group is a national, premier land reuse and redevelopment company specializing in the adaptive reuse of former institutional and industrial properties.