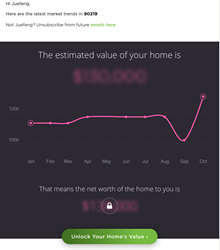 "Our content and campaigns are an ideal match for their marketing solutions, and today's homesellers need information and direction, we think this will help on all fronts."
SANTA MONICA, Calif. (PRWEB) May 26, 2020
Partnership will leverage Homebot's home valuation content marketing system to boost Seller Lead Gen, Seller Nurture, and Seller Communication for agents and lenders on the Ylopo platform.
Contact:
Aaron Franklin, Head of Growth
Email: kiwi@ylopo.com
P: 323-377-0979
Ylopo, one of the fastest growing and most innovative digital marketing companies in real estate, has partnered with Homebot, which specializes in connecting lenders and real estate agents with homeowners. Recognized for its success in automating long-term home valuation marketing and for its widespread use in the mortgage industry, Homebot's home valuation digest will be integrated into the Ylopo platform to better nurture the real estate agent's existing seller database and help produce a new and consistent stream of seller leads.
Ylopo helps real estate agents, teams, and brokerages scalably generate leads, nurture their database, market listings, and build brand awareness using an array of automated online advertising and marketing tools, including IDX search and custom branded sites, Facebook, Instagram, and Google dynamic ads for real estate, Dynamic remarketing/retargeting, Artificial Intelligence powered lead communication (RAIYA) and DyVa, its dynamic video ad campaign product.
"Ylopo is a true innovator in this space and we feel strong kinship in that regard," said Ernie Graham, CEO of Homebot. "Our content and campaigns are an ideal match for their marketing solutions, and today's homesellers need information and direction, we think this will help on all fronts."
The ongoing marketing "reach-outs" to the consumer, which can be set for a number of different intervals, helps homeowners understand the nuances of a home's financial position, ranging from current market value and refinance options to insight into the myriad ways home ownership can better augment personal wealth. Emails come in the form of colorful, easy-to-read, shareable visuals using charts, graphics, and simple, intuitive designs.
Ylopo has built two-way integrations with some of the most widely used CRM platforms in the industry such as Follow Up Boss, Firepoint, Sierra Interactive, Salesforce, LionDesk, and Infusionsoft. By integrating with Homebot, Ylopo pushes further ahead with its strategy to partner and build seamless integrations with other best-in-class technologies.
According to Ylopo CEO Howard Tager, "This is a partnership that has made a ton of sense to the founders of both Ylopo and Homebot since the very first time that we started brainstorming a possible integration and now to see it finally come to fruition and become a reality for our clients is beyond exciting! Every time a homeowner engages with their Homebot digest, an "early warning" signal is being sent to the real estate agent of a potential listing opportunity or to the lender of a potential refinancing opportunity. Game-changer!"
About Ylopo
Ylopo ("why·lo·po") is a next generation digital marketing technology company which provides an end-to-end online marketing solution for the real estate industry. Ylopo's proprietary platform is designed to help agents, teams, and brokerages generate more business and build their brand. Co-founded by Howard Tager and Juefeng Ge, Ylopo's core mission is to help their clients "win" by providing them with the most advanced digital marketing technologies that even the big companies wish they had. Ylopo was named an Inman Innovator Finalist in 2018, a Facebook Marketing "Success Story"in 2019, a Top RIS Media Futurist in 2020, and a NAR REACH Class Member of 2020.
About Homebot
Founded in 2015, Homebot is a client-for-life portal that maximizes repeat and referral business for lenders by empowering consumers to build wealth through homeownership. The award-winning client portal delivers personalized, actionable intelligence throughout the entire homeownership lifecycle to every client and prospect. With an average 50% monthly engagement rate, Homebot ensures lenders and agents remain the trusted advisors consumers rely on to make informed decisions about the largest asset they may ever own, their home. Homebot is based in Denver, Colorado.