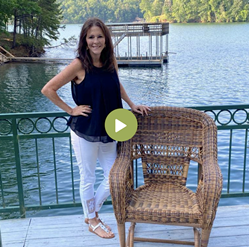 "This trend of investing in Panama is an ongoing phenomenon that will continue for quite some time in both real estate and agriculture." - Evie Brooks, Real Estate Educator and Investor specializing in Panama
ATLANTA (PRWEB) June 23, 2020
Former "Rich Dad Poor Dad" Trainer and Real Estate Educator Evie Brooks explained 11 Panama investing benefits in an "All Things Panama" interview on ESPN 1500 AM Cover Your Assets with Host Todd Rooker last weekend. With over 24 years of domestic and international real estate investing experience in 13 countries and 30 states, Brooks emphasized; "This trend of investing in Panama is an ongoing phenomenon that will continue for quite some time in both real estate and agriculture."
Host Todd Rooker kicked off this educational interview by sharing; "During the global pandemic, Brooks continues to close deals every week,…not surprising. Primarily due to the soaring demand for organic smart farming investments, avocados, limes, mangoes and more, in Panama where 85% of the food is imported."
As an educator, Rooker asked Brooks about her "boots on the ground" VIP Tours. Brooks explained; "Many are interested in Panama because it's an emerging market where people can find additional cash flow from investment properties, gain a second income by starting a new company, invest in organic farms, find a second career in real estate as a whole, and/or retire in a tropical paradise community that speaks English, and is cheaper than living in most major metropolitan areas."
When asked about what makes Panama so appealing, Brooks replied; "It's all about the bottom line for me, I'm always looking at how to take anything and turn it into an asset with multiple streams of income and exit strategies." Brooks then expanded on the top 11 reasons why Panama and why now:
1. Tax Benefits – Panama has been referred to as the "next Singapore" because it's very business friendly with low taxes designed by the government to attract people to move there and/or invest.
2. Don't have to be a resident to invest – The Panama residency process is appealing to expatriates and retirees, but you don't even have to be a citizen to invest in real estate.
3. U.S. Currency and Protected Territory – All transactions are done using the U.S. dollar, and Panama is a U.S. protected territory.
4. Substantially Lower Prices - Panama real estate prices are typically 25-50% less for the same quality in most major U.S. cities, and the standard of living is more affordable.
5. Strong GDP (Gross Domestic Product) – Over the last 10 years, the Panama GDP before COVID-19, has been between 5.6% and 11.3%.
6. Tropical Paradise – Brooks' VIP Tours focus on popular areas about 2 hours from Panama City, where the weather has tropical breezes and warm weather year-round.
7. Big City in Paradise – Panama City includes many things anyone would find in a major city, including metros, an international airport, and a new Johns Hopkins Hospital.
8. Panama Canal Expansion – This expansion started in 2016. A new cruise terminal is currently planned to open this winter, along with the anticipated completion of the 4th Panama Canal Bridge in 2023.
9. Hard-to-find Organic Farm Investments – Based on the global population growth estimates of 8.5 billion by 2030, Brooks explained that USDA certified organic farming is a growing investment area with smart greenhouses and long-term investments in trees.
10. Pre-Construction Investments with Low Deposits – Brooks also has access to pre-construction loans where "you put down a very small deposit 10% 20% or 30%, depending on where in the construction it is and then you hold until it's finished."
11. Lock Up and Leave – Investors can also lockup a property and leave it for long periods of time. Brooks' company can "maintain your unit." Properties can also be used as vacation rentals or a second home.
VIP TOURS: To learn more, Brooks added, "If you will go watch a very short video on eviebrookspanama.com, I've got two very substantial offers there. And as soon as you sign up for the video for free with your email, I'll send you information to schedule a free one-hour consultation with me. But if you watch it all the way through, there's also a cash offer for this VIP educational tour to join us for this boots on the ground event that has a maximum of 14 people. We'll pick you up at the airport, educate you on the country, take you to some of the best restaurants, and then review your goals and different strategies to make money. If you're looking to get involved with some of these projects or just become an expat, it's a worthwhile experience. You can find out how to become an expat, find a place to rent, and experience Panama. We are truly 'All Things Panama'. And that's what we do."
Media Contact
Liz H Kelly, 310-987-7207
ABOUT - Evie Brooks (Atlanta, GA and Veracruz, Panama) is an elite Real Estate Investment Educator, Keynote Speaker, Investor, Coach, Mentor, Entrepreneur and former Advanced Trainer for "Rich Dad Poor Dad", who now specializes in Panama real estate and organic agriculture investments. As a disclaimer, Brooks and her employees and affiliates are not investment or tax advisors, and do not offer investment advice. To learn more, visit https://eviebrookspanama.com