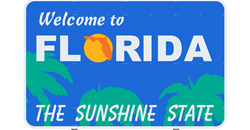 Where Real Estate Is Never Boring!
POMPANO BEACH, Fla. (PRWEB) February 18, 2021
"Florida Celebrity Real Estate News"
In what seems to be an exodus of celebrities and CEOs who are or may be ditching New York, Massachusetts and California for the Florida sunshine: Jennifer Lopez and Alex Rodriguez, Tom Brady and Gisele Bundchen, Joshua Kushner and Karlie Kloss, Cindy Crawford and Rande Gerber, and Ivanka Trump and Jared Kushner have recently bought homes or land in the Miami Beach area. In addition to year-round good weather and some of the best beaches in the world, no one has to be a celebrity in order to enjoy Florida's low cost of living, no state income or inheritance tax, and reasonable sales tax. Good reasons why Florida's population has moved ahead of New York and every state except California and Texas.
"Florida #1 State For Retirement"
According to a study by WalletHub, Florida is the best state in the country to retire. WalletHub looked at 45 variables including affordability, access to medical care, safety and quality of life. According to another report from "U.S. News & World Report's" Best Places to Retire, nine Florida cities are among the nation's best cities to retire. The top-ranked city on the list is Fort Myers followed by Sarasota at #2. In yet another study from SmartAsset based on housing costs, property taxes and home values, Florida had four towns ranked in the top ten for affordable living including Pensacola, Melbourne, Daytona Beach and Fort Pierce.
"Florida Has Very Low Taxes"
One of the reasons that CEOs, celebrities and sports stars are moving to Florida is due to taxes. People who make Florida their primary home can substantially reduce their property taxes via the Florida homestead exemption. Florida provides a homestead exemption on the first and third $25,000 of the assessed value of an owner-occupied residence. Even better, the Save Our Homes amendment to the Florida constitution limits annual increases in assessed value of properties with a homestead exemption to three percent or the change in the consumer price index, whichever is lower.
"Even Food & Electricity are Cheaper In Florida"
And it's not just property taxes. According to LoveMoney.com, Florida offers a wide variety of grocery brand stores ranking #20 in the U.S. for best grocery prices. Even electricity is cheap in Florida – about 30 percent below the U.S. national average. And very reasonable or even low home prices, especially in Central and North Florida where newer condos on the Gulf of Mexico are readily available in the $200s. The median price for all Florida condos, townhomes and single-family homes is $298,500 - about the same as the national median home price.
"Florida Attracts More Than Just Retired People"
According to a 2020 United Van Lines report, almost 40% of movers to Florida cited retirement as their main reason for moving. But Florida also attracts people for lifestyle (21%) and family (17%), and many young workers are relocating to Florida for the rapidly growing tech jobs. The campaign that Miami Mayor Francis Suarez began in late 2020 to recruit more high-paying jobs to South Florida has already had tremendous success landing 17 new tech and finance employers with thousands of new jobs.
"Future Florida Growth"
Florida's population has more than tripled since 1970, adding more than 3 million people every decade. With warm weather, miles of oceanfront, lots of available land, no state income tax and a cost of living about half of what it is in New York City, the state is ready to welcome more residents of every age group.
For more celebrity home news and celebrity home video tours, visit TopTenRealEstateDeals.com.