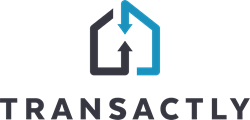 "We are thrilled to join the Transactly team."
ST. CHARLES, Mo. (PRWEB) April 20, 2021
Real estate transaction processing & coordination company, Transactly, acquires transaction coordination company SoMo Transactions based in Flagler Beach, Florida to expand its already nationwide, tech-enabled transaction coordinator footprint. On February 26, 2021, Transactly reached an agreement and SoMo began ongoing integration.
Transactly simplifies the buying and selling of any real estate transaction. The platform is designed to save agents, teams, and brokerages up to 16 hours per transaction by providing technology and tech-enabled services that streamline real estate transactions. It handles everything from quality control to progress reporting and HOA requirements while organizing 30+ tasks and numerous people involved.
In mutual alignment with the future of Transactly's goals and market strategy, SoMo Transactions - found and led by Jeannie Johnston - will fully transition over to the Transactly platform by the end of April 2021.
"Transactly is designed to simplify and streamline real estate transactions," explains Transactly founder and CEO Bryan Bowles. "Our proprietary technology helps those we serve – and our Transactly Coordinators – to be more efficient and out-perform industry standards. Bringing the team at SoMo Transactions on board allows us to offer an even larger number of experienced Transaction Coordinators across important US Markets."
Transactly has retained all existing SoMo Transaction staff; and will be absorbing the transaction coordinators into their stringent training program to ensure even greater client experiences. Jeannie Johnston, the Managing Partner of "SoMo", has also joined Transactly as their TC Coach. Jeannie will be driving the education of future transaction coordinators as well as strengthening internal programs and career growth of team members.
"We are thrilled to join the Transactly team." Commented Jeannie. "By joining Transactly our team will be able to operate much more efficiently, and I expect our TCs to do even more business than before. I'm excited to start in my new role as a TC Coach, and apply some of our best practices with the greater Transactly team."
Transactly is headquartered in St. Louis, Missouri, and was founded in 2017 by Bryan Bowles. Transactly's mission is to be the platform of choice for the people and companies involved in real estate transactions. Transactly's platform provides the largest team of tech-enabled transaction coordinators in North America.
To learn more, visit Transactly's website at https://transactly.com.
Press Contact
Susan Giles
117 S Main St., 2nd Floor
St. Charles, Missouri 63301
888-271-7003
susan@transactly.com