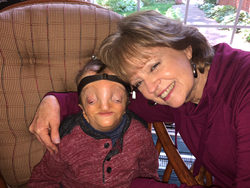 My husband and I always strive to do what is best for Scott and to share that information with others. To be honored with the Brian Liebenow Award is a humbling validation that a family's re-definition of normal while also living their best possible life makes a difference. - Paula Guzzo
CHESTERTON, Ind. (PRWEB) February 08, 2021
Real Food Blends, makers of 100% real food meals for people with feeding tubes, and the company that started a real food revolution in the medical community, is proud to announce the recipient of its third annual Brian Liebenow Award, which recognizes one extraordinary member of the feeding tube community each year during Feeding Tube Awareness Week. Feeding Tube Awareness Week is a worldwide event created by the Feeding Tube Awareness Foundation to increase awareness of feeding tubes and enteral feeding.
The 2021 Brian Liebenow Award recipient is a truly amazing special needs mom and advocate from Indiana, Paula Guzzo. Her son, Scott, was born in 1983 with a cleft lip, gum, and palate, among other special needs, and has never eaten by mouth. Paula has blended food for Scott since he was 5 years old and became a Real Food Blends advocate when she started using the meals in 2016. She's also a huge advocate for special needs education, always working to make sure Scott had the resources he needed in school to succeed and then extending her voice to advocate on a local, state, and national level for families like hers.
"Paula has been an advocate for real food for people with feeding tubes longer than almost anyone else we know. Beyond that, she works tirelessly for families with special needs and in particular has made such a difference for special needs education and with her dedication to the Children's Craniofacial Association. We're honored to share her story and to recognize her with this award," said Real Food Blends Co-Founder and President, Tony Bombacino.
Each year during Feeding Tube Awareness Week, Real Food Blends presents The Brian Liebenow Award to the person who most demonstrates outstanding courage, advocacy, compassion, and leadership within the tube feeding community -- all with a sense of humor, hope, and humility along the way. Each award recipient receives $1,000 and the company also donates $500 to the charity of the recipient's choice in their name. Each year the award recipient's story is featured in a national press release and across Real Food Blends' Facebook community, where they are honored in front of over 120,000 people.
"Paula is a remarkable woman who took the passion she has for advocating for her son, Scott, to advocating for children with special needs throughout her community, her state, and the entire country. What she has accomplished over the past 30 years is amazing, and that's on top of everything she does for Scott to make sure he has a full and happy life," said Julie Bombacino, Co-Founder and CEO of Real Food Blends.
"My husband and I always strive to do what is best for Scott and to share that information with others. To be honored with the Brian Liebenow Award is a humbling validation that a family's re-definition of normal while also living their best possible life makes a difference. We are blessed by Real Food Blends' recognition of our efforts," said Paula Guzzo.
The Brian Liebenow Award's namesake is a veteran, husband, father, cancer survivor, and invaluable part of the feeding tube community who became one of Real Food Blends' earliest and most vocal supporters. Brian lives life with a positive attitude despite the challenges that have come his way, and this award honors those who have a similar outlook on life and impact on the feeding tube community.
Real Food Blends chose to launch this award during Feeding Tube Awareness Week both in honor of the company's support of the Feeding Tube Awareness Foundation and as another way to bring attention and awareness to feeding tubes and how they help improve the lives of thousands of Americans every day. Hundreds of conditions can lead to the need for a feeding tube and whether they are used temporarily or, as in Scott's case, long term, they help save lives.
To learn more about Real Food Blends, which offers six different 100% real food for people with feeding tubes that are covered by many insurance plans, visit RealFoodBlends.com or Facebook.com/RealFoodBlends.
ABOUT REAL FOOD BLENDS
Real Food Blends makes 100% real food meals for people with feeding tubes. Born from Julie and Tony Bombacino's love for their own tube-fed son and a belief that we all deserve real food and nutritional variety, the meals contain 5-8 real food ingredients with no corn syrup or preservatives, are shelf-stable, and covered by many insurance plans. With millions of meals sold, they are available nationwide through DMEs, medical supply and home infusion companies or direct via RealFoodBlends.com and Amazon.