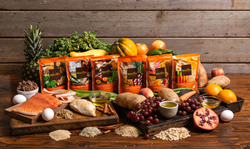 "We're excited to announce this award with Premier, which will make it easier for medical centers, long-term care facilities, and homecare providers to get access to Real Food Blends and give their enteral patients the power of 100% real food." Julie Bombacino, Co-Founder, CEO, Real Food Blends
CHESTERTON, Ind. (PRWEB) September 22, 2020
Real Food Blends has been awarded a group purchasing agreement for Medical Nutrition Products - Enteral Nutrition with Premier, one of the largest group purchasing organizations in the country. Effective August 1, 2020, the new agreement allows Premier members, at their discretion, to take advantage of special pricing and terms pre-negotiated by Premier for all six Real Food Blends meals.
"We're excited to announce this award with Premier, which will make it easier for medical centers, long-term care facilities, and homecare providers to get access to Real Food Blends and give their enteral patients the power of 100% real food. Our goal has always been to make it easier for more people with feeding tubes to have easier access to 100% real food and nutritional variety. This award from Premier is a huge step forward and solidifies RFB's role in helping to change the way enteral nutrition is approached and delivered," said Real Food Blends Co-Founder and CEO Julie Bombacino.
Real Food Blends makes 100% real food meals for people with feeding tubes. All six meal varieties contain only 5-7 real food ingredients (and nothing else) and can be used by adults and children. The meals are shelf-stable, and contain no added sugar, dairy, nuts, soy, or gluten ingredients. Designed to be bolus-fed, the meals can also be used with gravity bags and feeding pumps.
Premier is a leading healthcare improvement company, uniting an alliance of approximately 4,000 U.S. hospitals and 165,000 other providers to transform healthcare. With integrated data and analytics, collaboratives, supply chain solutions, and advisory and other services, Premier enables better care and outcomes at a lower cost.
ABOUT REAL FOOD BLENDS
Real Food Blends makes 100% real food meals for people with feeding tubes. Born from Julie and Tony Bombacino's love for their own son with a feeding tube and a belief that we all deserve real food and nutritional variety, the meals are free of corn syrup and preservatives, are shelf-stable, and covered by many insurance plans. With millions of meals sold, they are available nationwide through DMEs, medical supply, home infusion companies and GPOs or direct via RealFoodBlends.com and Amazon.