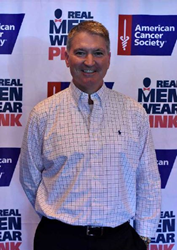 ADDISON, Ill. (PRWEB) August 20, 2018
In its second year, the Real Men Wear Pink campaign is goaled to raise $60,000 to support the American Cancer Society Making Strides Against Breast Cancer Walk of DuPage County. Throughout the month of October, 25 prominent area men will participate in the campaign, raising funds and encouraging the women in their lives and in the community to take action in the fight to end breast cancer.
Carl Amacker, CEO of FP Mailing Solutions is among the 25 men participating in the campaign to support the Society's breast cancer initiatives.
"We are grateful to Carl and all our Real Men Wear Pink candidates for lending their voices to our cause," said Jennifer Brauer, Community Manager for the American Cancer Society. "Not only will they wear pink throughout the month of October, but they will raise awareness about breast cancer and made a huge commitment to raise funds to help save more lives from the disease. Those donations allow the Society to help save lives from breast cancer through early detection and prevention, innovative breast cancer research, and patient support."
This is FP's second year being a part of Making Strides Against Breast Cancer Walk of DuPage. This year FP is shedding light on their fundraising efforts by creating their own hashtag on social media, #Fight4Pink.
"Whether it's on social media, at one of our fundraising events or a trade show we are always looking for ways to promote awareness," said Amacker, CEO of FP Mailing Solutions. "The Real Men Wear Pink campaign gives FP a chance to encourage those affected to take action in the fight against breast cancer. Our team has come up with numerous fundraising opportunities within the next two and a half months. We're hoping to not only meet our goal but to exceed it."
Breast cancer is the most common cancer diagnosed in women other than skin cancer. According to the American Cancer Society Cancer Facts & Figures 2018, an estimated 252,710 women in the US will be diagnosed with breast cancer and an estimated 40,610 will die from the disease this year.
It's not too late to make a donation to the Real Men Wear Pink campaign. Visit Carl's fundraising page for more information and how to donate.
ABOUT THE AMERICAN CANCER SOCIETY
The American Cancer Society is a global grassroots force of 2 million volunteers saving lives in every community. As the largest voluntary health organization, the Society's efforts have contributed to a 25 percent decline in the cancer death rate in the U.S. since 1991, driven by less smoking, better treatments, and earlier detection. We're finding cures as the nation's largest private, not-for-profit investor in cancer research, ensuring people facing cancer have the help they need and continuing the fight for access to quality health care, lifesaving screenings and more. For more information, to get help, or to join the fight, call us anytime, day or night, at (800) 227-2345 or visit cancer.org.
ABOUT FP MAILING SOLUTIONS
FP Mailing Solutions is the US subsidiary of the worldwide listed company Francotyp-Postalia Holding AG. FP revolutionized mailroom technology with the introduction of the first digital meter. Today FP is one of the leading postage meter, folder inserter, address management and mail stream solutions provider offering a wide range of mail center products and services designed to create seamless mailing solutions. The company is plugged into over 230,000 mailrooms worldwide, and is the fastest growing mail machine and systems vendor in the U.S. FP believes in providing all of their customer's mailability and quality mailing experiences with minimal error. To learn more about FP Mailing Solutions, visit http://www.fp-usa.com.