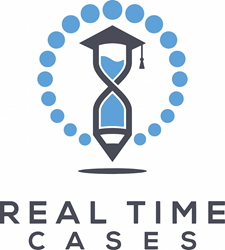 Every college student in America probably already knows about CAVA's great food. We hope their familiarity with the chain will make them just as hungry to learn about its business and will unleash their creativity to help CAVA address its unique business challenges.
DULLES, Va. (PRWEB) November 05, 2018
Real Time Cases, which links the professional world to higher education classrooms through more than 200 video-based and interactive business-case scenarios, and CAVA, a U.S. privately held restaurant chain focusing on casual Mediterranean cuisine, have partnered to create a series of Management, Strategy, Human Resources, Finance, Operations, and Marketing case studies for higher education business classes that are sure to fuel creativity and excitement for learning in students across the country.
The companies have partnered to create seven video-based case studies that include CAVA leadership and that present real, current business-case scenarios for students, from freshman to master's degree levels, to work on as part of business coursework. Each case includes a CEO overview, a background video about the company, and the case/business challenge itself.
"We're excited to announce a new partnership with CAVA as part of our mission to bring innovative cases from ground-breaking companies into higher education classrooms," said Jake Schaufeld, CEO of Real Time Cases. "Every college student in America probably already knows about CAVA's great food. We hope that familiarity with the chain will make them just as hungry to learn about their business and will unleash their creativity to help address CAVA's unique business challenges."
CAVA joins more than 40 corporate partners with which Real Time Cases partners to create video-based, current, authentic, and relevant course materials to deliver a more approachable and engaging learning experience than traditional case studies. These studies expose students to timely challenges facing real companies. The CAVA case studies, all of which are now available to any professor registered with Real Time Cases, are:

Growth Hiring: Setting Team Members Up for Success
o Key Topics: Hiring, Organizational Behavior, Recruiting, Organizational Fit

Brand Consistency & Cohesion
o Key Topics: Branding, Strategy, Brand Culture

Always Improving: Training for Optimal Operations & Services
o Key Topics: Training, Lean Six Sigma

Fueling Full Lives: Mission-Driven at CAVA
o Key Topics: Organizational Behavior, Strategy

Heatmapping the United States: Expansion at CAVA
o Key Topics: Business Development, Real Estate, Strategy, Growth

Whipping Up a New Era: Digital Ordering at CAVA
o Key Topics: Fast Casual, QSR, Digital Ordering

The Cost of Doing Business – The Financial Side of Food Service Delivery
o Key Topics: Fast Casual, Business Development, Finance
"We've enjoyed our partnership with Real Time Cases and embrace their innovative approach to learning and curriculum building," Dave McKlveen, Vice President of People and Culture at CAVA said. "Being able to provide students with true line of sight into issues facing our business will help better prepare them for life after school."
Current Real Time Cases' curriculum spans business disciplines, including Marketing, Organizational Behavior, Entrepreneurship, Strategy, Finance, Hospitality, Accounting, Operations, and more.
About Real Time Cases
Real Time Cases is a digital content provider that serves as the bridge between the Higher Education classroom and the professional world. Based in Herndon, Virginia, Real Time Cases delivers engaging, video-based case study activities for undergraduate and graduate-level courses that bring the vibrant real world of Business into the classroom. Students learn through experience and confront real challenges facing today's business leaders within a platform that is accessible anytime, anywhere. Real Time Cases partners include CAVA, Team Liquid, KIND, CustomInk, WeddingWire, and many more.
About CAVA
CAVA was born out of a desire to fuel full lives through a bold and innovative food culture rooted in the heritage of the culinary brand's founders Ted Xenohristos, Ike Grigoropoulos and Executive Chef Dimitri Moshovitis. The three first-generation Greek Americans are childhood friends who wanted to bring the authentic Mediterranean flavors and experiences of their Greek upbringing to a wider audience in a modern, accessible format. The trio then partnered with CAVA CEO Brett Schulman to grow the company. Together, CAVA has evolved into an organization with more than 60 chef-casual restaurants across 10 states and a successful line of chef-crafted dips and spreads sold in more than 250 Whole Foods Market locations and other specialty grocery stores around the country. By the end of 2018, CAVA will have 75 locations nationwide. For a full list of open and upcoming locations, visit: cava.com/locations. For more information, please visit http://www.cava.com and follow CAVA on social media.