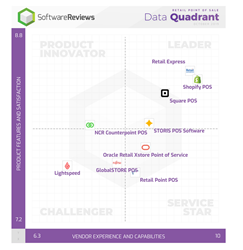 "The digital revolution continues to change the retail POS landscape with mobile payments, big data, AI augmented analytics and cloud helping retailers to make better decisions for their stores and creating a better, more personalized customer shopping experience"
TORONTO (PRWEB) October 21, 2019
SoftwareReviews, a division of the world-class IT research and consulting firm Info-Tech Research Group, has published its 2019 Retail POS Data Quadrant Awards naming the following four gold medalists:
1. Shopify POS
2. Retail Express
3. Square POS
4. STORIS POS Software
What makes the SoftwareReviews Data Quadrant different? Inclusion of aggregated emotional response ratings in the areas of service, negotiation, product impact, conflict resolution, and strategy and innovation creates a powerful indicator of overall user feeling toward the vendor and its product from the software users' point of view. SoftwareReviews calls this insight the Net Emotional Footprint.
In addition to Net Emotional Footprint scoring (based on standard net-promoter scores), Shopify POS ranked well across the board, with the highest score in cash register point-of-purchase devices, at 86%. Retail Express excelled in many areas, including a vendor support score of 91%; Square POS demonstrated consistently strong results across many categories, coming up on top in ease of IT administration with a score of 76%; and STORIS POS Software ranked consistently well, coming up number one in inventory control with a score of 81%.
"The digital revolution continues to change the retail POS landscape with mobile payments, big data, AI augmented analytics and cloud helping retailers to make better decisions for their stores and creating a better, more personalized customer shopping experience," said Larry Fretz, executive advisor/gaming & hospitality practice lead at Info-Tech Research Group. "Having a smart retail POS system becomes important for retailers to offer their customers a seamless experience, and as the technology continues to evolve POS systems will better enable retailers to improve their business operations," he added.
About SoftwareReviews Data Quadrant Awards and Software Reports
SoftwareReviews Data Quadrant Awards recognize outstanding vendors in the technology marketplace as evaluated by their users annually. Top vendors in a software category are eligible to receive Data Quadrant Gold Medals, provided their scores meet the threshold for sufficiently high user satisfaction across four areas of evaluation: vendor capabilities, product features, likeliness to recommend and vendor experience. Full vendor evaluations are available in SoftwareReviews' in-depth software evaluation reports at http://www.softwarereviews.com.
About SoftwareReviews
SoftwareReviews is a division of Info-Tech Research Group, a world-class IT research and consulting firm established in 1997. Backed by two decades of IT research and advisory experience, SoftwareReviews is a leading source of expertise and insight into the enterprise software landscape and client-vendor relationships.
By collecting real data from IT and business professionals, the SoftwareReviews methodology produces the most detailed and authentic insights into the experience of evaluating and purchasing enterprise software.
For more information, please contact:
Leanne O'Brien
Director, Communications & PR
lobrien@infotech.com
1-888-670-8889 ext. 3409