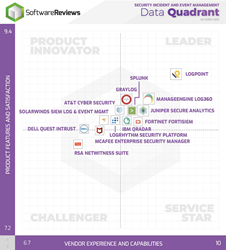 TORONTO (PRWEB) October 10, 2019
SoftwareReviews, a division of world-class IT research and consulting firm Info-Tech Research Group, has published its 2019 Security Incident & Event Management Data Quadrant Awards naming the following seven gold medalists:
1. LogPoint
2. ManageEngine Log360
3. Juniper Secure Analytics
4. Graylog
5. Splunk Enterprise Security
6. Fortinet FortiSIEM
7. AT&T Cybersecurity
Security information and event management (SIEM) software allows companies to combine an assortment of security software components into one platform. SIEM software inspects the network and provides a real-time breakdown of security alerts related to both applications and hardware. This may include alerts on newly discovered malware and vulnerabilities, unauthorized access, etc. SIEM stores logs and records for retrospective reporting and planning enabled through functional and security investigation of the network. IT and security operations teams are empowered with shared security-related information and warnings for proactive and preventative security measures.
About SoftwareReviews Data Quadrant Awards and Software Reports
SoftwareReviews Data Quadrant Awards recognize outstanding vendors in the technology marketplace as evaluated by their users annually. Top vendors in a software category are eligible to receive Data Quadrant Gold Medals, provided their net-promoter scores meet the threshold for sufficiently high user satisfaction across four areas of evaluation: vendor capabilities, product features, likeliness to recommend and vendor experience. In-depth product evaluation reports are available at http://www.softwarereviews.com.
About SoftwareReviews
SoftwareReviews is a division of Info-Tech Research Group, a world-class IT research and consulting firm established in 1997. Backed by two decades of IT research and advisory experience, SoftwareReviews is a leading source of expertise and insight into the enterprise software landscape and client-vendor relationships.
By collecting real data from IT and business professionals, the SoftwareReviews methodology produces the most detailed and authentic insights into the experience of evaluating and purchasing enterprise software.
For more information, please contact:
Leanne O'Brien
Director, Communications & PR
lobrien@infotech.com
1-888-670-8889 ext. 3409