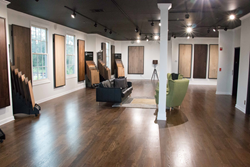 It's our passion and purpose to work towards the day when every child is home.
NASHVILLE, Tenn. (PRWEB) September 21, 2020
Real Wood Floors, the maker of quality flooring, is expanding its efforts this week and opening a new location at 1100 Fatherland Street, in Nashville, Tennessee. The building was originally scheduled to open in March, but after a vehicle ran through the front glass and delays from tornado recovery and adjusting to Covid, Real Wood Floors had to delay its opening.
Spokesperson Dan Ruhland expressed enthusiasm about the new launch on March 1, stating, "We designed our space to feature panels of our flooring first and foremost. We think nothing better exhibits a beautiful floor more than seeing a large sampling of it displayed for easy viewing with home-style lighting. We have plenty of samples and catalogs for you to take home to compare with your coordinating pieces."
Aside from the showroom space, Ruhland notes the flexibility of Real Wood Floors' customer service. "We enjoy serving our clients in custom and personal ways, including jobsite, office, and coffee shop meetings designed to best help them find solutions."
Real Wood Floors has also opened up new locations in Denver and Atlanta in the last two years.
Dan also added that this expansion will generate additional revenue to help Real Wood Floors grow their mission. "It's our passion and purpose to work towards the day when every child is home. In some cases that home is with new families through adoption, but we believe the best solution is often in creating ways for these children to find homes in their own countries. We're partnering with organizations to find creative solutions to lift children up from the most challenging circumstances and provide not only loving homes, but education and support assistance to give them a better chance to thrive. We believe these elements are life-changing and we love thinking outside the box to find solutions. Just as we love to innovate and embrace challenges in our industry, we want to apply the same drive to not only helping individual children, but solving the problem. Growing our business in Nashville significantly impacts our efforts in helping to fulfill this purpose."