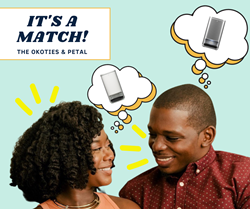 CHARLOTTE, N.C. (PRWEB) October 27, 2020
Less than two years ago, Deonna McNeill and Greg Okotie took a leap of faith and got married in a most unconventional way. As newlyweds who have recently launched their own apparel line, they have quickly and adeptly transitioned to their new normal as business owners and celebrities.
As newly expecting parents-to-be, however, they are fast realizing the many challenges and tough decisions that lie ahead. Over the past few days, Deonna and Greg have been engaged in serious conversations about their future.
Fresh off the announcement that they are expecting, the couple is excited to announce their first brand partnership with Petal, a revolutionary new disposal device that eliminates stink and neutralizes germs from dirty diapers, food scraps, and more, simply by freezing them. The proceeds from this partnership will directly fund the outfitting of the couple's nursery with additional proceeds supporting an education fund for 'Baby O'.

Deonna on why they've chosen to partner with Petal:
"From our very first interaction, it was immediately clear to both Greg and I that our values really aligned with Christie's (Zwahlen) and David's (Taffet). We couldn't be any more excited to be partnering with fellow husband-and-wife entrepreneurs who are truly committed to meaningful social impact."
Greg on why Petal caught his eye:
"When I first came across Petal's Instagram, I didn't need to scroll any further. I couldn't believe that something like this didn't exist already. We walk around with mini-computers in our pockets, but we don't have a way to deal with rotten, nasty smelling garbage in the kitchen. It just sits in the trash can and attracts flies. That doesn't seem healthy or clean."
Christie Zwahlen, Petal co-founder and Executive VP of Social Impact on Petal's re-imagining of the waste disposal process:
"We're bringing this innovation into the world because, in addition to setting people like Deonna and Greg free from rot, stink, and germs at home, we know Petal can help solve persistent public health issues and advance critically important sustainability programs everywhere.
"Selfishly, we're thrilled that partnering together means spending time with them, even if it's virtual. They're both such authentic, down-to-earth people, and that's why everyone is so invested in their journey."
"We're so happy that Deonna and Greg will never have to live with the stench of dirty diapers. It's bad, and it affects your quality of life. Greg is already a 24/7 entrepreneur, which means he's up late and rises early. With Baby O on the way and Petals in their home, Greg and Deonna won't be losing any sleep over foul smells or germs in their nursery or kitchen. Their focus can remain on what matters: their growing family. Nothing is more important."
Lauded by Fast Company as "hard to resist", Petal, a first-of-its-kind appliance designed to freeze organic household waste, is available for pre-order now at PetalClean.com. For a limited time, loyal fans of Deonna and Greg can use the discount code FRAKEUP10 to receive $10 off their pre-order at the exclusive rate of $189 (plus S&H).
About Petal
Established in 2020, Petal is a majority women-owned Fort Worth, Texas-based consumer goods company on a mission to stop rot, stink, and the spread of germs. Its namesake product is the world's first zero-odor, germ-freezing waste bin. As a purpose-driven enterprise, Petal believes everyone deserves to live in healthy, clean, and sustainable environments; plastic pollution is a scourge that must end; and that composting should be easy and widespread.