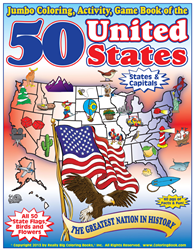 Our company supports the educators and readers. We are business centric and not issue centric. In order to achieve this high standard you must have the facts of accuracy on your side.
Saint Louis, MO (PRWEB) May 20, 2014
"This is a continued non-biased effort working with educators and parents to provide children's products across America without political correctness or the undue influence of any type agenda. Many citizens have elected to continue the education of children with literature that reflects American core values without a shift in the learning standard while supporting historical accuracy and integrity," states Publisher Wayne Bell.
The company has issued a signed letter and is sending product packages to business and corporate leaders, including all 50 State Departments of Education, the Federal Department of Education and numerous human rights groups; included but not limited to, the ACLU, the ADL, the ACLJ and CAIR. RBCB is providing materials to educate children in understanding a full American value set, not just any particular agenda, according to company officials. Publisher Bell, stated, "We hope the contacted organizations consider the human, civil and constitutional rights of the people these books represent."
"When you look at the success of the products our company produces it is easy to understand why we ask that these books be included into the American core values system and the common standards of education," continued Bell. "Our company supports the educators and readers RBCB is business centric and not issue centric. In order to achieve this high standard you must have the facts of accuracy on your side."
With the company's cultural event books and the line of educational coloring books, each product stands on its own merit. From the 9/11 We Shall Never Forget Kids Book of Freedom, The Tea Party Coloring Book for Kids,The US Constitution Just for Kids, to a #1 best seller on Amazon for over 16 weeks, The Ted Cruz Coloring and Activity Book. Our customers tell us what they want for their children. It's the inclusion of diversity that sustains America's greatness, stated some parents and educators expressing joy over the recent Pope Francis Coloring and Activity Book. Preparing students for a lifetime of success and leadership, these books show the value of an inclusive and diverse education in the U.S.A. today, say company officials.
Really Big Coloring Books®, Inc., headquartered in St. Louis, MO, is a multi-national company providing quality children's teaching and learning tools and coloring book products for over two decades. Known for their market leading positions the RBCB family of products are classic, colorful and unique. The company owns more than 900 coloring book related domain names in several countries and is a trend-setting leader in the coloring book industry.
All the RBCB company products are manufactured in the U.S.A. To find out more visit: http://www.ColoringBook.com or call 314-725-1452.