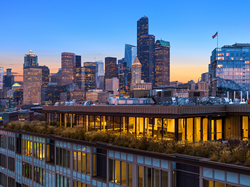 "Here comes the neighborhood. Now that the Alaska Way Viaduct is removed, homebuyers can better understand how the surrounding community is evolving. The opportunity to own the future has become very clear and present."
SEATTLE (PRWEB) November 06, 2019
Executives of Realogics Sotheby's International Realty (RSIR) and Daniels Real Estate, the Manager for Gridiron Investors, LLC, announced today remaining market-rate homes at Gridiron Condominiums have been repriced up to 20% below their original list prices for accelerated sales. The new sales campaign, dubbed "THIS IS IT", aligns validated market prices and new information about the emerging waterfront district in the midst of a recent uptick in housing trends and recently lowered mortgage interest rates.
"Looking back, great opportunities in real estate are always marked by time and place," said Matthew Van Damm, Vice President of New Developments for RSIR. "Now is the time, and Gridiron is the place. These new homes are being offered below replacement costs for immediate occupancy and present a phenomenal value for those that have been following the market and ready to make a move in 2019."
Van Damm points to exciting neighborhood plans for the new Seattle Waterfront District, which will include more than 20 acres of public park area with spaces for concerts, cultural experiences, lush gardens, and elevated views of Elliott Bay. Seattle's new waterfront begins in the Railroad Way District—literally at the doorstep of Gridiron Condominiums.
"Here comes the neighborhood," muses Van Damm. "Now that the Alaska Way Viaduct is removed, homebuyers can better understand how the surrounding community is evolving. The opportunity to own the future has become very clear and present."
New listings at Gridiron include urban one-bedrooms, one-, and two- bedroom homes (614 – 1,764 sq. ft.), priced from $449,910 to $854,910 with an average of around $850 per sq. ft.—the best-valued, concrete-and-steel new construction condominium offered on the market, according to Van Damm. Since September 2019, three homes have sold and closed at Gridiron priced between $562,900 and $810,000 with another recent home sale pending. The increased sales activity tracks with a bounce back in the market. The most recent S&P/Case-Shiller Home Price Index for the Seattle metro area noted that selling volumes, selling prices, and market times were stabilizing, while also noting median home prices turned positive year-over-year in August 2019. Meanwhile, data drawn from the Northwest Multiple Listing Service for the month of October 2019 suggests median home prices of resale condominiums in downtown Seattle increased 8 percent year-over-year to $730,000 and the average price per sq. ft. increased from $788 to $804 last month. The recent drop in the Fed interest rate on October 30, 2009—the third cut in the year—also helped to lower mortgage costs for consumers and encourages wait-and-see buyers to act now.
"We have been longtime champions of Seattle's historic neighborhood and invested in Gridiron knowing that we were ahead of our time," said Kevin Daniels, President of Daniels Real Estate. "We have been patiently awaiting to showcase Gridiron's enviable location to the new waterfront and the right market conditions to accelerate sales. There is a reason why Pioneer Square properties are a hot commodity and office vacancy rates are a lean 3.2 percent. With very few home ownership opportunities in the neighborhood, this new present value at Gridiron is as good as it gets."
Goldman Sachs and Unico Properties recently announced that they plan to combine the three buildings of the Grand Central historic block properties so that they operate as a single office and retail building with penthouse units above the Buttnick and Grand Central buildings. Urban Villages has commenced with its adaptive reuse of three landmark buildings along Occidental and two new apartment developments have been announced in the heart of Pioneer Square. Urban Visions also plans the much-awaited "S" Project, which will soon bring more than 1 million sq. ft. of Class-A office space and will potentially service more than 5,000 employees in the neighborhood.
"My partners and I always knew that Pioneer Square was going to be a compelling neighborhood setting with its brick buildings, tree-lined pedestrian plazas, more transit options than any other downtown neighborhood, and new connection to the waterfront once again."
Part of Daniel's vision was to also ensure that Gridiron offered middle-class homeownership opportunities, not just luxury units. With this announcement Daniels Real Estate is officially releasing a limited collection of nine remaining "Moderate Income Units" with studios offered from $368,500 and urban one-bedrooms offered from $421,000.
The new condominiums are to be sold to individuals earning at or below 115% of the Area Median Income (AMI) of $88,000 per year (single person household), and once validated, the purchaser is able to secure a conventional mortgage to close on the home. The only other restriction is the home must be owner-occupied, not rented out and not resold for at least one year.
Built in 2018, Gridiron is a 107-unit, 11-story concrete-and-steel condominium built within the historic brick exterior shell of the former 115-year old Johnson Plumbing Building at 590 1st Avenue South, in Pioneer Square. The industrial-chic homes feature generous interiors, expansive window walls, engineered hardwood flooring throughout, and European-inspired kitchen with gas cooking, Pental quartz countertops, and backsplash. The triangular-shaped building is topped by a full-floor Penthouse Club with a great room and catering kit, state-of-the-art fitness center, co-working lounge, elevated pet park and play area, and wrap-around terraces boasting front-row views of Seattle's skyline, Elliott Bay, and the Stadium District.
Daniels Real Estate appointed RSIR brokers Rick Maynard and Diana Ward as listing agents and Parker Johnson as Sales Concierge. Building tours are being offered daily from 11 a.m. to 6 p.m. or by appointment. Gridiron is now more than 60% sold with 32 market rate homes and 9 income restricted homes remain available. For more information, visit http://www.GridironCondos.com.
###
About Realogics Sotheby's International Realty (http://www.RSIR.com) -- Realogics Sotheby's International Realty (RSIR) is a leading global sales and marketing brokerage firm in the Pacific Northwest. The boutique real estate firm of 235+ active brokers service branches in downtown Seattle, Bainbridge Island, Kirkland, Issaquah, Madison Park and soon, downtown Bellevue. RSIR is also a leading project marketing specialist currently representing and advising on more than $1.5 billion in new condominium developments planned throughout the Puget Sound region.
About Daniels Real Estate (http://www.DanielsRE.com) – Daniels Real Estate's mission is to create places that help communities thrive. Combining preservation, sustainability, and great architectural design, their projects strive to provide a building block for stronger and more vibrant communities. With the same senior management team that redeveloped local Seattle iconic buildings such as The Sanctuary, Starbucks Center, Union Station, Frye Art Museum, Merrill Place, and currently St. Edward Seminary in Kenmore, the team has a depth of experience unapparelled in the Pacific Northwest with three National Preservation Awards, as well as many local and state awards for our work in historic preservation and reuse.
EDITORS NOTE: Property renderings, development team headshots, biographies and market statistics are available upon request.