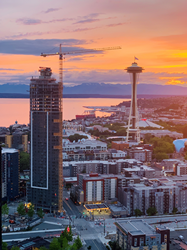 SEATTLE (PRWEB) July 22, 2020
Leaders of Laconia Development, PCL Construction, and Realogics Sotheby's International Realty (RSIR) celebrated the topping off today for Spire, a new luxury condominium building in the center of Downtown Seattle, situated at 600 Wall Street, just two-and-a-half blocks from the world headquarters of Amazon.
This major construction milestone indicates the impending completion of this highly anticipated new community in vibrant Belltown, scheduled for the spring of 2021. While robust interest in the building means some of the 342 one-, two-, and three-bedroom units have already been purchased, many condominiums of varying sizes and styles are still available to buyers, and the Spire team is thrilled to share this exciting milestone with all of its current and future homeowners.
Reaching this landmark moment—despite the complications and setbacks that new construction projects have faced in recent months due to the coronavirus pandemic—Spire has shown itself to be a step ahead of many other condominium developments in the Seattle area, a forward-thinking model of how a modern, high-rise condominium community can welcome the Seattle of the future.
Paul Menzies, CEO of Laconia Development, stated, "We could not have asked for a better general contractor than PCL to lead this project under such extraordinary circumstances. Reaching the topping off milestone is an incredible accomplishment for any high-rise, and so much more so given the challenges of the past several months."
"PCL is proud to be part of such a fantastic project and team," said Tyler Kautz, PCL's operations manager. "The team has overcome countless roadblocks, but consistently approached them in a collaborative way that focused on the best interest of the project as a whole, rather than individual groups. From the ownership expertise of Laconia and a truly talented consultant team, to the great design and subtrade partners, it is a special group of professionals that we are fortunate to be part of."
PCL poured a staggering 25,000-plus cubic yards of concrete, reinforcing it with about 9 million pounds of steel to construct the building's tower, which sweeps skyward to reach a staggering 41 stories with beautiful residences as well as premium amenity spaces and a stunning, open-air roof deck. The building's sheer height, as well as the approximately 162,000 square feet of window walls that are nearly complete, create Spire's spectacular and completely unobstructed views of the iconic Space Needle, city skyline, Elliot Bay, and South Lake Union—arguably the project's most standout feature—and flood each expansive home and gathering space with natural light.
With thoughtfully designed, nature-inspired interiors created by the award-winning Robin Chell Design, stunning panoramic views, and incomparable access to the very best of the city—it's a five-minute walk to South Lake Union, major tech campuses, Denny Park and transportation, with close proximity to both I-5 and SR99—Spire's homes offer enormous value to potential buyers. Pricing starts in the $600,000s and reaches over $3 million for the most luxurious penthouse units.
A representative collection of the remaining Spire inventory is as follows:
UNIT 502 | 2 Bedroom/2 Bathroom | $1,169,950 | 9-FT Ceilings | 1,154 SF
UNIT 510 | 1 Bedroom/1 Bathroom | $899,950 | 9-FT Ceilings | 985 SF
UNIT 708 | 2 Bedroom/2 Bathroom | $1,319,950 | 9-FT Ceilings | 1,188 SF
UNIT 806 | 1 Bedroom/1 Bathroom | $569,950 | 9-FT Ceilings | 531 SF
UNIT 809 | 1 Bedroom/1 Bathroom | $775,000 | 9-FT Ceilings | 765 SF
UNIT 1503 | 1 Bedroom/1 Bathroom | $799,000 | 9-FT Ceilings | 684 SF
UNIT 2401 | 1 Bedroom/1 Bathroom | $979,950 | 9.5-FT Ceilings | 765 SF
UNIT 2404 | 1 Bedroom/1 Bathroom | $1,089,950 | 9.5-FT Ceilings | 814 SF
UNIT 2502 | 2 Bedroom/2 Bathroom | $1,624,950 | 9.5-FT Ceilings | 1,154 SF
UNIT 2708 | 2 Bedroom/2 Bathroom | $2,049,950 | 9.5-FT Ceilings | 1,188 SF
UNIT 3009 | 1 Bedroom/1 Bathroom | $1,079,950 | 9.5-FT Ceilings | 765 SF
UNIT 3605 | 2 Bedroom/2 Bathroom | $1,774,950 | 9.5-FT Ceilings | 1,126 SF
As work at Spire continues to move forward at a fast pace, its iconic silhouette and groundbreaking architecture are now clearly visible against the Seattle skyline. PCL estimates that 250,000 hours of labor have gone into the building's construction so far.
For more information on Spire listings, visit: (http://www.spireseattle.com)
About PCL Construction (https://www.pcl.com/) — PCL is a group of independent construction companies owned by employee shareholders across the United States, Canada, and Australia. As a diversified general contractor, PCL celebrates the past and builds for the future.
About Laconia (http://www.laconiallc.com/) — Bay Area-based Laconia Development, LLC, is a full-service real estate investment and development firm that envisions and builds high-rise and mid-rise residential communities and mixed-use environments in dynamic urban centers. By focusing on emotionally resonant architectural design, Laconia creates landmark developments that command attention and enhance existing neighborhoods—buildings that residents are proud to call home.
About Realogics Sotheby's International Realty (http://www.RSIR.com) — Artfully uniting extraordinary homes with extraordinary lives, Realogics Sotheby's International Realty is a leading global sales and marketing brokerage firm in the Pacific Northwest. Recognized by the Puget Sound Business Journal amongst the fastest-growing private companies in Washington State in recent years and ranked #8 in the top ten largest residential real estate brands, the boutique real estate firm of 235+ brokers service branches in downtown Seattle, Bainbridge Island, Kirkland, Issaquah and Madison Park. RSIR is a leading project marketing specialist currently representing more than $1 billion in new condominium developments planned throughout the Puget Sound region.