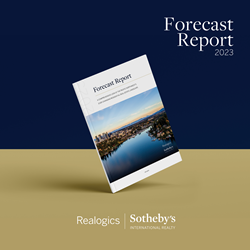 "The report offers insights into our ancillary housing markets, investment planning, markets to watch, and trends in sustainability and design." - RSIR President and CEO Dean Jones
SEATTLE (PRWEB) February 23, 2023
Today Realogics Sotheby's International Realty (RSIR) released its 2023 Forecast Report, a macroeconomic housing report authored by established Pacific Northwest thought leaders who have analyzed the trends in 2022, evaluated what's occurred so far in Q1 for 2023 and are focused on where the market is headed next. The top brokerage, led by CEO and President Dean Jones, is releasing its 8th annual comprehensive report on real estate across the region, and the second in this format, which taps industry leaders from real estate and beyond to offer their expertise and projections for what lies ahead in Western Washington real estate.
The report offers insights into our ancillary housing markets, investment planning, markets to watch, and trends in sustainability and design. While median home prices in the Pacific Northwest region had been generally decreasing, many of the report's contributors (Jones, Alan Pope of Pope Azeltine, Inc., Todd Britsch of Level Capital, LLC, Amy Mutal of Prevail Wealth Management among others) have predicted them to stabilize, and with increased inventory, decreased pressure, and a trend for lower mortgage interest rates by the second half of the year. Homebuyers may well discover that 2023 could create a buying opportunity not seen in a decade.
"Our brokerage has released a report unlike any other in the region to address the primary concerns of anyone with interest in the Puget Sound housing market," says Jones. "By working with leading experts whose research is known across real estate, finance, lending, design, and beyond, we look at the broader economic picture along with insights that will prepare our agents and their clients for the year ahead."
The topics spanning the report touch on the considerations of buyers, sellers, and homeowners, including in-city living opportunities and housing supply and demand, a financial outlook examining the stock market and real estate holdings, sustainable building, design trends, and what lies ahead for the city centers of both Downtown Seattle and Downtown Bellevue.
"The year-over-year comparisons found in the report will create sensational headlines," says RSIR CMO Andrea Savage. "But we're focused on the fundamentals to help our brokers and their clients seize opportunities. Such dynamics make it even more important to work with an experienced real estate broker, backed by the Sotheby's International Realty® brand, who can be relied on as a trusted advisor to support making the right decisions."
The release of the report coincides with an upcoming invitation-only event sponsored by the brokerage—the 2023 Forecast Forum (https://www.futurecastforum.com/), where top industry leaders will present dynamic panel discussions about the state of the housing market, the Seattle metro's enviable economic fundamentals, demographic and design trends, political considerations, supply and demand and new developments in the pipeline.
The 2023 FutureCast Forum will be held on March 7 at McCaw Hall with guest speakers to be announced in the coming week.
About Realogics Sotheby's International Realty (RSIR) (https://www.rsir.com)
A leading global sales and marketing brokerage firm in the Pacific Northwest, RSIR is a boutique real estate firm of 300+ brokers, with service branches in downtown Seattle, Bainbridge Island, Bellevue, Kirkland, Mercer Island, and Madison Park. RSIR is a leading project marketing specialist throughout the Puget Sound region. The firm was recognized again in 2022 by The Puget Sound Business Journal among the region's "Top 100 Largest Private Companies", "Fastest-Growing Private Companies" and "Largest Residential Real Estate Brands".
Editors Note: Brokerage branch office photos and principal and contributor headshots, as well as a digital copy of the 2023 Forecast Report, are available upon request.