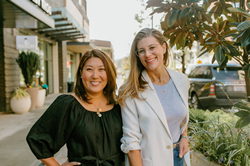 "The Sotheby's International Realty network is preeminent for brand recognition and referral marketing globally—there's truly no comparison."
MERCER ISLAND, Wash. (PRWEB) February 02, 2023
Executives from Realogics Sotheby's International Realty (RSIR) proudly announce veteran real estate brokers Robyn Kimura Hsu and Rachel Schindler have rejoined the firm as Senior Global Real Estate Advisors and reinstated their roles as Founding Members of the Mercer Island Branch of the fast-growing real estate brokerage. The top-producing team, known as the Robyn + Rachel Group, generated more than $1.30 billion in career sales, with $110 million in sales volumes in 2021 and $89 million in 2022. Previously licensed with RSIR since 2019, the collective entertained a one-year, exploratory sojourn at Compass Real Estate during 2022, until market factors and corporate restructuring at Compass compelled a return home to the Sotheby's International Realty network.
"We are obviously thrilled to welcome back Robyn and Rachel, and their team, to the very branch they helped envision in their own backyard on Mercer Island," says Dean Jones, President and CEO of RSIR. "They were certainly missed over the past year, and we are grateful that they prefer what we offer at Realogics Sotheby's International Realty to reunite our teams."
With two decades of sales and marketing experience representing land, new construction, resale, and interstate referral activity, Robyn and Rachel are among the region's most successful and recognized Realtors® specializing in all property types and price points. Rachel is also moving her license in Nevada and California to Sotheby's International Realty affiliates and shares time between her homes in Bellevue and Lake Tahoe.
"The Sotheby's International Realty network is preeminent for brand recognition and referral marketing globally—there's truly no comparison," says Schindler. "As market-wide sales volumes contract, it's critical for us to expand our market area while also providing a white-glove service level, whether that's around the corner or around the globe. This is the only international real estate brand that can deliver on this promise with consistency and continuity."
Schindler will also join RSIR's Strategic Advisory Council for Business Development to help curate opportunities for peer agents to build teams, explore referral networks, and build a brand within a brand for future retirement planning.
Kimura Hsu states, "I'm proud to be part of the RSIR family, and this experience allowed me to compare company cultures, marketing advantages, support levels, and commitment to local operations."
While RSIR is not the largest residential real estate brand in the Pacific Northwest, its agents consistently represent the highest average buying and selling prices, and they generate the greatest aggregated home sales listing volumes and productivity on a per-agent basis. The firm does so with the highest percentage of producing agents, the highest retained commission rates, and among the lowest days on market when compared to the top 10 largest brands, according to Trendgraphix research for 2022.
"We are very proud of the many accomplishments that Realogics Sotheby's International Realty has achieved over the past 12 years in the Seattle metro area and beyond," said Philip White, President and CEO of Sotheby's International Realty Affiliates, LLC – the franchisor of RSIR. "Yet another testament is thriving through significant competitive pressures and regaining valued agents after a brief departure. I have great respect for the Robyn + Rachel Group, and I know our network is elated to have them back."
Much has been published about aggressive recruiting techniques used by competitive, venture-backed brokerages to acquire market share, even at the cost of profitability and questions persist about sustainability. The current market correction and pressures from Wall Street investors led to dramatic cutbacks in technology, service level, and recruiting incentives that helped propel Compass and other real estate companies. For many, this resets what agents were attracted to in the first place.
"We are reminded that the most important brand attributes of legacy, trust, and culture must be earned, and cannot be bought," adds Jones. "This past market cycle has witnessed disruption and innovation, which we respect and contribute to, but connection and collaboration with our entire team are paramount."
As a long-standing resident of Mercer Island, Kimura Hsu is keen to help develop the newly opened branch office for RSIR. In her business, she specifically seeks to expand the market reach for her clients on and off the island, while her team services the entire region with all property types and price points. She will also collaborate with RSIR's land division and the new developments team to take advantage of in-city renaissance and resort market opportunities.
The Robyn + Rachel Group also includes Jill Smith as Broker and Client Services Manager and Maddie Bates as Operations and Marketing Director. The nationally ranked team gains access to RSIR's Executive Club program, a concierge-level project management team that is specialized in accessing and deploying the firm's plethora of exclusive marketing programs, including a vertically integrated creative agency known as CLAY, a dedicated social media team, and relocation services, to name a few.
In contrast to most of its competitors, RSIR is a private, consumer service-oriented company supported by agents and technology, not a public-traded, technology company for agents seeking support for their customers. Jones says his agents' business is his business, and that is his focus rather than a stock value.
"I'm excited for what's next for the Robyn + Rachel Group, powered by a proven support team at RSIR," adds Kimura Hsu. "Given my due diligence working in several different real estate brands, I'm comforted by the commitment of RSIR's local ownership, a dedicated commitment to supporting their agents, and enduring brand legacy. This is a people business, and culture matters to us and our clients."
About Realogics Sotheby's International Realty (RSIR) (https://www.rsir.com)
A leading global sales and marketing brokerage firm in the Pacific Northwest, RSIR is a boutique real estate firm of 300+ brokers, with service branches in downtown Seattle, Bainbridge Island, Bellevue, Kirkland, Mercer Island, and Madison Park. RSIR is a leading project marketing specialist throughout the Puget Sound region. The firm was recognized again in 2022 by The Puget Sound Business Journal among the region's "Top 100 Largest Private Companies", "Fastest-Growing Private Companies" and "Largest Residential Real Estate Brands".
Editors Note: Brokerage branch office photos and principal headshots available upon request.