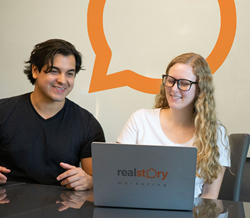 Realizing the potential we could bring to our clients, we created RealStory. Now we help our clients focus and master their marketing content that will provide them with the results they need. - Felix Ruano, VP of Operations
KITCHENER, Ontario (PRWEB) October 08, 2020
After years of perfecting web design for ISU Corp, their marketing team has branched out to offer their expertise to many new clients. From following the story marketing framework, they are experts at creating websites that help their clients attract the perfect audience, provide value, and increase sales.
Businesses that struggle to make quality leads, attract people to their website, or get the growth they need can rest knowing that the team at RealStory have the skills to maximize their success. They have built sites for companies of all kinds of backgrounds, including software solutions, service providers, and coaches, most notably international best selling author and celebrity coach, Anil Gupta. No matter the niche, and no matter the location, RealStory can create or guide you on your way to building not just your website, but a voice to your brand that will captivate your audience.
RealStory dedicates itself to creating websites that will bring your story to life to help your business grow and gain the reputation you need to thrive. With services varying from landing page makeovers and built from scratch websites, to strategy and training packages, there is a solution for you to start growing exponentially.
Thanks to RealStory's marketing they are now bringing maximum value to their clients. With their team's strength, the impact of their knowledge, and their innovative ideas, the team at RealStory can bring any website to life.