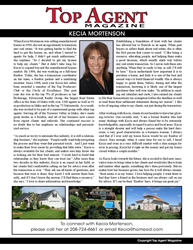 Most importantly though, it is my loyal clients that I cherish, who have come back to me time and time again and have also referred their friends and families to me.
NAMPA, Idaho (PRWEB) April 01, 2019
"I have worked hard over the years to build my business and reputation so it is very rewarding to have this honor. Most importantly though, it is my loyal clients that I cherish, who have come back to me time and time again and have also referred their friends and families to me. This makes up about 95% of my business now and I love making their friends super happy, which makes them feel great too, so everyone wins," said Mortenson.
Mortenson has been awarded exclusive membership to either the Circle of Excellence or the Top Producers' Club for the past two consecutive decades, but 2018 marks her greatest professional year yet, as she landed in the Top 5% of the largest real estate office in the state of Idaho.
The secret to Mortenson's success is specialized attention to her clients. As a seasoned realtor, Mortenson knows home-buying and selling is a relationship business that requires the human touch. Although she does offer insights and real estate tips on her website (http://www.ida-homes.com) she resists the trend of automation when serving her clients and instead turns to high communication and hands-on service that resembles more of a partnership than a transaction.
"People really want help navigating the process and they want that personal touch. I just want to make their lives easier by providing that little extra," Mortenson stated in her April feature.
She offers free booking and consultations on her company's Facebook page that offers value before any transaction is ever made. Of her dedication to providing value to her clients during and after the sale, Mortenson explained in her interview with Top Agent Magazine, "for example, I remind my clients a few weeks before the deadline to file their homeowner's tax exemption for reducing property taxes and I mail them their closing settlement statement again during income tax season."
Mortenson has been in real estate for over 20 years and serves the Treasure Valley area of Idaho. She is also involved in a mastermind group of top real estate agents and has mentored several successful agents throughout her career.
Concluded client Kristin M., "We have happily had Kecia handle two different real estate purchases and one sale and we highly recommend her to everyone. Kecia works hard for her clients and even goes the extra mile. When we were selling our home while out of town, she drove many miles to take care of issues that came along during our escrow that we weren't available to handle. She was always very prompt at returning calls when we were not able to reach her directly, as well as answering written communications. We highly appreciated her level of service. She truly cares."
If you'd like to get to know Kecia a little better, you can read more of her reviews or contact her directly on her Google Business Page.
About Kecia Mortenson, Kecia & Co
Kecia Mortenson is a Realtor and investor with 23 years of experience in the Southwest Idaho area. Mortenson is a member of Brokerage, Silvercreek Realty Group, an office of over 1,300 agents and is recognized as #1 in production in the state of Idaho. You can contact Kecia at (208) 724-4661, or visit http://www.ida-homes.com. Kecia & Co is located at 5680 E. Franklin Road, Suite 220, Nampa, ID 83687.
For media inquiries, please call the NALA at 805.650.6121, ext. 361.