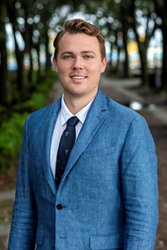 He is incredibly personable, driven and knowledgeable about the luxury market in Charleston and will serve as a great asset to our company
CHARLESTON, S.C. (PRWEB) October 06, 2020
Accomplished Charleston REALTOR®, William Prendergast, has joined The Cassina Group. Will has a strong background in high-end construction and has built a successful real estate career focusing on luxury properties in and around historic Charleston.
"Will is an outstanding agent and we are thrilled to have him at The Cassina Group," said Owen Tyler, managing broker and partner of the firm. "He is incredibly personable, driven and knowledgeable about the luxury market in Charleston and will serve as a great asset to our company."
Prendergast has a long history of success in the luxury real estate market during his time in Charleston. Will is originally from Leesburg, Virginia and previously worked for Apex Custom Homes, one of the top 100 custom construction companies in the country. He has a true appreciation for Charleston's rich history, unique architecture, and diverse culture, and he is committed to providing maximum exposure and options for his buyer and seller clients.
"I am impressed with the direction that Cassina is going and felt it was the best place for me to expand my business and better help my clients," said Prendergast when asked about joining the company.
The Cassina Group is known as Charleston's innovation-driven real estate firm, with a proven reputation for delivering stronger results though leading-edge technology and building lasting relationships. The boutique company consistently ranks in the top 10 in the MLS and is the leading luxury boutique firm in Charleston, S.C.
For more information on The Cassina Group, please visit http://www.TheCassinaGroup.com.
About The Cassina Group
The Cassina Group is a boutique real estate brokerage with offices in Mount Pleasant, SC and Charleston, SC. The firm is managed by Owen Tyler, partner and managing broker, and founding partners Jimmy Dye and Robertson Allen. Recent awards include top honors from Charleston Magazine, Inc. 5000 and SC Biz News. For more information, visit http://www.TheCassinaGroup.com or call 843-628-0008