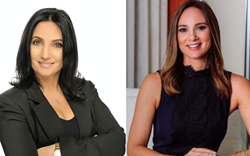 We are hoping to get more donations and to be able to continue offering these meals for the healthcare providers on the front lines"
FORT LAUDERDALE, Fla. (PRWEB) April 16, 2020
A little over four weeks ago Lara Sahakian reached out to great friend Kim Knausz to see if she would like to join her in sending some delicious baked goods to some local hospitals as a Thank You to the ER and CoViD-19 healthcare heroes. Kim immediately jumped on board and the first 4 batches of tasty treats from Love Lee Bakery were on their way.
The next day, as the two were meeting up for their daily walk on Las Olas, the conversation shifted from the usual South Florida Real Estate market to what was happening in the world while the Corona 19 pandemic was picking up momentum in the United States. As lockdowns were being announced and many of the local businesses began struggling, these two friends were thinking of ways to help and support their local businesses and healthcare providers.
That's when Kim immediately jumped into action and created a Go Fund Me page and Lara reached out many local restaurants to see if they met strict health and safety guidelines and if they would be willing to deliver directly from their kitchens to the hospitals, in order to avoid any type of cross contamination. "It seemed like a win-win to be able to find a way to continue supporting our hardest hit local businesses while showing healthcare warriors some love and appreciation," said Sahakian "I have a friend who is a Doctor in the area, and I reached out to him to get some information about the Corona virus and he shared with me that the hospital that he is working at had closed the cafeteria because of the virus and they had no place to get food for themselves on the fly during there 10-18 hour days."
To date, they have delivered 2,500 meals and baked goods to three of the local hospitals in Broward County. By raising funds through a Go Fund Me Page, https://bit.ly/FLLwarriors, they have been able to continue their efforts and have been able to support ten local businesses. The two friends started the Meals for Healthcare Heroes initiative that keeps growing and inspiring daily, across state lines, as new initiatives have sprung up in State College, PA, Orlando, FL Washington, D.C. and New York City by friends and family. "We are currently supporting three Hospitals in Broward County; Memorial Hospital West, Memorial Hospital Pembroke and Holy Cross Hospital, and so far, we have been able to spread out orders amongst 10 local businesses. We are hoping to get more donations and to be able to continue offering these meals for the healthcare providers on the front lines for as long as the lockdown lasts," said Sahakian.
Participating Restaurants: LoveLee Bakery, Storks Bakery & Coffee House, Pizza Craft, Empire Pizza Café, Tatts & Tacos, Holy Mackerel Brewery, Offerdahl's Off-The Grill, Mini Donut World, Laspada's Original Hoagies, and Sublicious.
If you are interested in helping and supporting the heroes on the front lines while supporting local businesses in Broward County, visit the GoFundMe page https://bit.ly/FLLwarriors.
ABOUT:
Lara Sahakian is an Associate Broker at Berkshire Hathaway Home Services EWM Realty International and is certified as a Sports & Entertainment specialist with a focus on Luxury Real Estate. She is the Founder of Elite Global Access, LLC a luxury lifestyle management & travel services company.
Contact: Lara Sahakian: lara@elitglobalaccess.com 954-612-5272
Kim Knausz is a licensed Realtor at Sotheby's International Realty specializing in high- end Luxury Real Estate. She was instrumental in launching ONE Sotheby's Sports & Entertainment Division and is currently the Director of VIP Sales.
Contact: Kim Knausz: kknausz@onesothebysrealty.com 954-579-8860