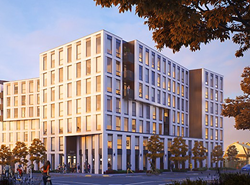 Cascade Sotheby's recently launched an Asia Desk to serve the real estate and relocation needs of international buyers.
PORTLAND, Ore. (PRWEB) September 24, 2018
Realty Trust Urban has partnered with Cascade Sotheby's International Realty to market a new Portland tower condominium development, TwentyTwenty, to Asian markets. Cascade Sotheby's premier broker, cross-cultural expert and Asia Desk manager Michael Zhang will lead TwentyTwenty marketing efforts to Asian buyers. The partnership will also leverage the extensive footprint and influence of Sotheby's International Realty in Singapore, Japan, China and throughout Asia.
Located in the historic Sullivan's Gulch neighborhood, the TwentyTwenty development is the first new construction tower condominium project in NE Portland in over a decade. The LEED Platinum Class A luxury construction offers wood floors, exposed concrete and quality steel-based architecture. Units are competitively priced starting in the $300,000's for one-bedrooms and in the $500,000's for two-bedrooms.
With consistent demand for real estate in the Pacific Northwest and a record number of foreign buyers scooping up residential properties, Cascade Sotheby's recently launched an Asia Desk to serve the real estate and relocation needs of Asian buyers. Exclusive listing agent for TwentyTwenty, Realty Trust Urban, has dedicated a tranche of condominiums in the new development for the Cascade Sotheby's team to market directly to those passionate new markets.
A triple threat talent as an elite principal broker, relocation and cross-cultural training expert, Zhang will be responsible for marketing the new Portland development to Asian buyers. He will also collaborate with the Sotheby's International Realty offices in Asia to assist buyers looking for investments like this in the Pacific Northwest.
"Cascade Sotheby's and Michael Zhang in particular have proven themselves as very successful in connecting with—and selling to—international buyers," says Patrick Clark, founder of Realty Trust Urban and exclusive listing agent for the TwentyTwenty Tower. "The distinguished Sotheby's brand carries the cache and prestige that makes a difference marketing internationally—and Zhang's multilingual talents and background in cross-cultural relationships and relocation make him a valuable asset on this project."
According to the National Association of Realtors, the gradually expanding US and global economies should keep foreign buyer demand at a robust level. A recent article in the Los Angeles Times states that foreigners bought 284,455 properties in the 12 months that ended March 31, about a third more than a year earlier. Dollar volume surged nearly 50% to $153 billion, also a record for the survey first taken in 2009.
The article states that Chinese nationals were the biggest buyers, purchasing $31.7 billion worth of property, up from $27.3 billion a year earlier and more than ever before, according to the association.
"In addition to becoming a desirable market for international real estate buyers, Portland continues to attract young to mid-career professionals and empty-nesters who appreciate the exceptional value the location offers and prefer the benefits of condominium living," says Clark. "TwentyTwenty will be an excellent alternative for renters tired of rising rents, for buyers who desire to live in close-in neighborhoods and as potential vacation rental property."
Cascade Sotheby's affiliation with Sotheby's International Realty offers a distinctive advantage to reach an affluent global audience. With over 20,000 sales associates in approximately 880 offices and 69 countries and territories, the Sotheby's network provides a profound international reach to market properties in Oregon and SW Washington.
"There are many investors in Asian countries who are experiencing new wealth and looking for investment opportunities around the lifestyle and environmental wellness that Oregon and the Pacific Northwest have to offer," says Zhang. "These investors love prestigious global brands like Prada, Tiffany's and Sotheby's—the Sotheby's brand positions the new Asia Desk to provide world-class, white glove investment, relocation and cultural integration services these buyers expect. I am delighted to have this exceptional opportunity to unite these buyers with investment opportunities like the TwentyTwenty Tower here."
About Realty Trust Urban
We anticipate urban transformation and partner to create the right products for the right neighborhoods, one story at a time. We provide unrivaled service to developers, investors and home buyers, anticipating the desires of consumers, not just marketing to them. We approach each project with a shared vision to transform the city for the better, one story at a time. We believe that collaboration with developers, architects and investors throughout the development and sales phases is the differentiator in delivering exceptional results. Our record shows we've outperformed the competition since 2002; having marketed and sold over $2.2 billion in urban high-rise homes with a portfolio of 17 distinctive condominium projects consisting of over 2,500 units. The diversity of our experience with various product types and shifting consumer mindsets qualifies us as a true industry leader in urban realty. We believe that independent homeowners deserve the same elite expertise and we provide the same results-oriented approach to individuals. Realty Trust Urban is your partner in city living.
About Sotheby's International Realty Affiliates LLC
Founded in 1976 to provide independent brokerages with a powerful marketing and referral program for luxury listings, the Sotheby's International Realty network was designed to connect the finest independent real estate companies to the most prestigious clientele in the world. Sotheby's International Realty Affiliates LLC is a subsidiary of Realogy Holdings Corp. (NYSE: RLGY), a global leader in real estate franchising and provider of real estate brokerage, relocation and settlement services. In February 2004, Realogy entered into a long-term strategic alliance with Sotheby's, the operator of the auction house. The agreement provided for the licensing of the Sotheby's International Realty name and the development of a full franchise system. Affiliations in the system are granted only to brokerages and individuals meeting strict qualifications. Sotheby's International Realty Affiliates LLC supports its affiliates with a host of operational, marketing, recruiting, educational and business development resources. Franchise affiliates also benefit from an association with the venerable Sotheby's auction house, established in 1744.
About Cascade Sotheby's International Realty
Harnessing the worldwide recognition and prestige of the Sotheby's name, Cascade Sotheby's International Realty expertly represents the most distinctive properties at every price range. The firm's 11 strategic locations throughout Oregon and southern Washington form the most expansive luxury real estate network in the Pacific Northwest. Cascade Sotheby's International Realty brokers are masters of their craft, combining local expertise and global connections to artfully unite extraordinary places with extraordinary lives. The firm achieved a billion dollars in sales in the first 11 months of 2016, joining only 25 Sotheby's International Realty affiliates in the world with this distinction. Exceptional service, continual innovation, and unrivaled market knowledge continue to set Cascade Sotheby's International Realty apart as an industry leader.
Contact: Claudia Johnson, Public Relations, 503-799-2220