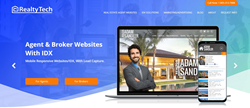 As the real estate industry becomes increasingly more tech and digitally driven, it's just as relevant as ever for brokerages and offices to invest in virtual tools that will capture leads and bolster online marketing
SHERMAN OAKS, Calif. (PRWEB) December 16, 2019
Just in time for 2020, RealtyTech, Inc. has relaunched their web and IDX solutions for real estate agents to encompass both brokerage offices and multi-office franchises. This offering accommodates large to medium-sized real estate enterprises by developing custom and semi-custom digital platforms that are optimized for lead generation.
"No matter the scope of a company's roster of real estate professionals or office locations, RealtyTech will develop and market a mobile-responsive website complete with IDX integration for real estate firms, as well as provide over forty additional features for brokers to choose from," Richard Uzelac declared.
Additional Services from RealtyTech Inc include, Online Marketing, Search Engine Optimization (SEO), online Google and Facebook Advertising and Local Business Marketing.
"We're excited to revamp our real estate company and broker websites initiative for the upcoming New Year," stated Richard Uzelac, CEO of RealtyTech, Inc. "Intuitive digital platforms and interfaces will continue to be the key to success and growth for real estate professionals in 2020 and beyond." Some of the built-in features a brand-new broker/company website from RealtyTech, Inc. include the following: Custom Market sections, Market snapshots, automated email listing alerts, integrated local maps, custom forms, live phone support, and more. To see additional brokerage IDX integration solutions and a portfolio of designs, click here.
"As the real estate industry becomes increasingly more tech and digitally driven, it's just as relevant as ever for brokerages and offices to invest in virtual tools that will capture leads and bolster online marketing through Search Engine Optimization, or SEO and consistent online advertising through portals such as Google and Facebook, Richard Uzelac, CEO of RealtyTech adds.
Since 2002, RealtyTech, Inc. has evolved according to the latest trends in web development and digital marketing to keep real estate professionals ahead of the curve -- no matter if they're new or established in their regional area. Real Estate Companies that have worked with RealtyTech Inc. for lead generation have shown a huge jump in unique timely leads for their companies.
"We have been partnering with RealtyTech Inc. for over twelve years, said Joe Alexander, President of Park Regency Realty in the San Fernando Valley, in Southern California. "Richard Uzelac, and his team at RealtyTech has done a great job of constantly marketing and updating our website. They have consistently generated many unique leads for us. They are always there when we need them and really care about us and the success we are enjoying for our Clients and Agents," Joe Alexander stated.
About Richard Uzelac
Richard Uzelac has been in the real estate business for over thirty years. He started as an agent in New Jersey then office owner in California to real estate technology leader. Richard Uzelac was the Senior Director of Realtor.com before starting RealtyTech Inc. in 2002. Richard has given thousands of presentations and talks on real estate technology. Richard Uzelac is available as a speaker and consultant for real estate franchises, offices, and agents. Contact Richard Uzelac directly at 805.413.7888.
About RealtyTech, Inc.
Founded in 2002, RealtyTech, Inc. has helped thousands of real estate agents and offices in building strong brands and online presences that enhance their real estate businesses. RealtyTech specializes in websites, IDX, and digital marketing and advertising for real estate professionals and brokerages. For more information about their digital solutions and assets, call 805.413.7888.