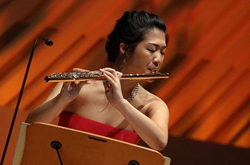 "Annie Wu is a bright light in a new generation of musicians who will carry forward the tradition and integrity of serious music, while embracing new technology and media to reach many future audiences." — James Cassidy
Newport, KY (PRWEB) March 10, 2015
What's old is new again — well kinda. Composers have often looked back on their predecessors for ideas and inspiration, be it form, style, or even actual tunes. The Kentucky Symphony Orchestra(KSO) has put together a program of 20th century pieces that reflect upon composers and music of the Renaissance, Baroque and Classical eras. Coincidentally, all works on the first half of the program were penned during World War I.
Opening the concert is Sergei Prokofiev's precocious "Classical" Symphony, full of Haydn-esque surprises. The work is a popular and zippy 15-minute, four movement piece that fits well within 21st century listening sensibilities. Maurice Ravel's Le Tombeau de Couperin follows as a tribute to the French Baroque suite championed by Francois Couperin. From the six movement suite, originally composed for piano, Ravel orchestrated 4 movements and dedicated them to friends who were lost in the War. The piece features the oboe and orchestral woodwind section.
Sixteenth century Italian lute works provided Ottorino Respighi's inspriation for his tender and rollicking Ancient Airs and Dances, Suite No. 1. Vincenzo Galilei, father of famed astronomer Galileo Galilei, penned the Galliard movement. KSO music director James Cassidy commented, "These short and beautifully reflective selections from the war years show how art and music can offer a calm and uplifting respite from surrounding chaos and devastation."
Following intermission the KSO welcomes 19-year old flutist Annie Wu to perform Lukas Foss' Renaissance Concerto for Flute and Orchestra. Written in 1986 for flutist, Carol Wincenc (with whom Annie has studied the piece), Foss revels in taking the listener back in time describing the work as "an homage to something I love — a handshake across the centuries."
As an encore Annie will perform her YouTube hit Three Beats for BeatBox Flute by composer Greg Pattillo.
Miss Wu, a native of Pleasanton, California, is currently a freshman at both Harvard and the New England Conservatory of Music, where she studies flute with Paula Robison. She has won numerous awards and competitions and has performed as soloist with the San Francisco Symphony. In 2014, Annie was named a U.S. Presidential Scholar in the Arts. Since 2013 Miss Wu has held the principal flute chair with Carnegie Hall's National Youth Orchestra of the USA which has toured the US and Europe with conductors Valery Gergiev, Seiji Ozawa and David Robertson. When not immersed in music, Annie enjoys watching movies, traveling, eating, painting, and spending time with her friends and family.
"Annie Wu is a bright light in a new generation of musicians who will carry forward the tradition and integrity of serious music, while embracing new technology and media to reach many future audiences."
— James Cassidy
The program concludes with The Wise Virgins, a one-act ballet that was created in 1940 to a score of well-known cantata music by Johann Sebastian Bach, as orchestrated by William Walton. The ballet is based on Matthew's Gospel and parable of the ten wise and foolish virgins.
The KSO continues its 23rd season celebrating the 20th century with all selections making their KSO debuts at these concerts: 8:00 p.m., Saturday, March 14 and 3:00 p.m. Sunday, March 15, 2015 at Notre Dame Academy. Tickets are $19, $27, $35 (children 6-18 receive 50% off) and are available online kyso.org, by phone 859-431-6216 or at the door.
About the KSO: The Kentucky Symphony Orchestra takes the "phony" out of symphony through its varied and thematic concerts, which culturally enrich, educate and entertain the residents of Northern Kentucky and Greater Cincinnati. The KSO performs throughout Northern Kentucky performing three series of concerts, for the schools, in the parks and at various indoor venues.