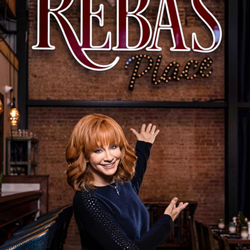 ATOKA, Okla. (PRWEB) February 13, 2023
Country music superstar Reba McEntire is excited to announce the grand opening of her new restaurant, Reba's Place, located in the heart of downtown Atoka. Reba's Place is a 15,000-square-foot combination restaurant, bar, live music venue, and retail store.
In partnership with the Choctaw Nation of Oklahoma and The City of Atoka, Reba's Place was constructed in an old Masonic Temple. It features two stories of dining space that open to a central stage which will regularly host live music performances. The menu includes scratch made classic southern food alongside favorites from Nashville, New Orleans, and Mexico. The main floor also showcases a restored antique bar and offers a broad range of beer, wine, and spirits crafted into signature cocktails. The aesthetics of the venue are heavily influenced by Reba's western heritage and include a curated collection of memorabilia from Reba's personal archives that will regularly change.
"Music and the fans helped build this place and get it all together. And that's what a restaurant is all about, where people can come in, visit and eat," said Reba McEntire. "Reba's Place is a joint venture with the Choctaw Nation of Oklahoma, and they are the best partner. It's exciting to work with people who have a passion for this town and for creating jobs, tourism, and new opportunities in southeastern Oklahoma, in the community where I grew up."
Reba's Place is located at 319 East Court Street, Atoka, Oklahoma. The restaurant will be open seven days a week, with hours of operation from 11am to 9pm. For more information, visit http://www.rebasplace.com.
About Reba McEntire
Multi-media entertainment mogul Reba McEntire has become a household name through a successful career that spans across music, television, film, theater and retail. The Country Music Hall of Fame and Hollywood Bowl member has won 16 ACM Awards, 15 American Music Awards, 9 People's Choice Awards, 6 CMA Awards, 3 GRAMMY® Awards, a GMA Dove Award and was a 2018 Kennedy Center Honors recipient, in addition to multiple philanthropic and leadership honors. Reba has celebrated unprecedented success including 35 career No.1 singles and selling over 58 million albums worldwide. Reba recently earned her 60th Top 10 on the Billboard Country Airplay chart, extending her record for the most Top 10 hits among female artists. Reba's Top 10 success spans across five straight decades and lands her alongside only George Jones, Willie Nelson and Dolly Parton in the achievement. The Oklahoma native and Golden Globe® nominated actress has 11 movie credits to her name, a lead role on Broadway in Irving Berlin's Annie Get Your Gun and starred in the six-season television sitcom Reba. Her brand partnerships include Dillard's, REBA by Justin™ and she was named the first female and musician to portray KFC's iconic founder Colonel Harland Sanders in their celebrity colonel campaign. Reba McEntire's The Hammer recently debuted on Lifetime and is streaming now. For more information, visit http://www.Reba.com or follow @Reba on Facebook, Twitter, and Instagram
About Reba by Justin®
The Reba by Justin® collection features Reba's take on classic western boots, booties and casuals, drawing inspiration from pieces of the Grammy Award winner's life story. Each style captures a moment from Reba's daily routine; from everyday wardrobe essentials to her show-stopping performance boots. Built on comfort, using the finest leathers, refined details and the craftsmanship that Justin® Boot Company is known for, this collection presents a truly unique offering.
Facebook: @JustinBoots | Twitter: @JustinBoots | Instagram: @JustinBoots
Shop the Reba by Justin collection here
About Justin Boots
Justin Boots is a brand of western footwear that was founded in 1879 by H.J. Justin. The company is headquartered in Fort Worth, Texas, and produces a wide range of boots for both men and women, including cowboy boots, work boots, and casual shoes. Justin Boots is known for its high-quality craftsmanship and use of premium materials, and has a reputation for being a trusted brand in the western footwear market. For more information, visit justinboots.com.
Facebook: @JustinBoots | Twitter: @JustinBoots | Instagram: @JustinBoots