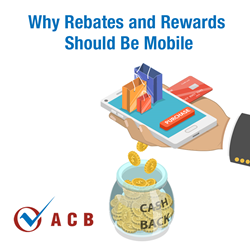 With consumers becoming increasing tech-savvy, it is crucial for brands to offer mobile-enabled rewards in consumer promotions and employee incentive programs
NEW YORK (PRWEB) October 29, 2020
In 2020, more than ever, consumers and employees are expecting to be rewarded for their loyalty, purchases and employee accomplishments. As COVID lingers and technology adoption advances, ACB's Payment Services Group is reporting digitally enabled rewards continue to be the preferred reward choice for consumer ease and efficiency. Studies show that over half of consumers are interested in receiving digital cards that can be added to a mobile app or digital wallet. With consumers becoming increasingly tech-savvy, it is crucial for brands to offer mobile-enabled rewards in their upcoming consumer promotions and employee incentive programs.
In addition to the speed of delivering these rewards, brands may find mobile-enabled rewards increasingly beneficial to their marketing strategy. The ability to leverage technology with data-mining capabilities allows brands to improve the overall experience for their end-user, while discovering specific purchasing habits and behaviors. Additionally, brands may find digital rewards to be a cost-effective alternative to other reward options.
"The recent effects felt from the COVID-19 pandemic has encouraged consumers to gravitate towards contactless payments. Brands must become more innovative in their current and upcoming rebate and incentive program strategies to adapt to new, preferred methods of payments. Mobile-enabled rewards allow manufactures to better understand and satisfy their customers, while proving to be a cost-effective alternative" Jack Benrubi, Vice President, Business Development, The Advertising Checking Bureau, Inc.
Digital and wallet-enabled rewards allow consumers to store all their payments, promotions, rebate rewards and loyalty cards in one easy-to-use location, their mobile phones. Mobile rewards also satisfy the consumer's craving for instant gratification and demand for personalized engagement, using little to no effort. Mobile wallet compatible customer rewards and employee incentives help the recipients feel the reward has been tailored to their personal shopping and payment habits, increasing engagement and excitement with brand programs and end-user loyalty.
ACB remains uniquely qualified to address the Marketing Services needs of brands, manufacturers, service providers and their advertising agencies. For more information on ACB services covering Rebates and Sales Incentive program services, Co-op Advertising, Compliance Program Administration, and Competitive Ad Tracking, please visit acbcoop.com or contact us at sales@acbcoop.com.
ACB is headquartered in New York City with client service offices in Memphis, TN and Tempe, AZ. For additional information, Contact ACB.