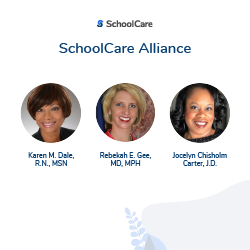 NEW YORK (PRWEB) February 03, 2021
SchoolCare, a leading provider of Student Health Records in K-12 schools across 29 states, has launched the SchoolCare Alliance to advance statewide adoption of health tracking, reporting, and care coordination in schools. Members of the SchoolCare Alliance include three accomplished, innovative, and influential leaders in healthcare policy and scaled operations.
Among the 1.6 million children on SchoolCare's platform, in 2020 SchoolCare proactively identified and logged tens of thousands of COVID cases. The SchoolCare Alliance will work to ensure that these population insights inform the safe reopening of schools and facilitate testing and vaccine programs for children.
Brett Shamosh, CEO of SchoolCare, says, "We're thrilled to have such accomplished executives join the SchoolCare Alliance to support our mission. Our nation's school-based health offices are intimately familiar with the health and wellbeing of our students, but they lack the resources to provide appropriate care for every child. We must be able to universally track and report these actionable health insights equitably, across all students in a given state. This is a critical Public Health issue for our future and these leaders are positioned to accelerate a national solution."
About the SchoolCare Alliance Members:
Rebekah Gee, MD, MPH: Dr. Rebekah Gee is an Obstetrician/Gynecologist and CEO of Health Care Services for LSU Health. She is the former Secretary of the Louisiana Department of Health, the state's largest agency with a budget of $14 billion. Her oversight responsibilities included public health and other direct service programs for citizens in need such as behavioral health, developmental disabilities, aging and adult services, emergency preparedness, and the Medicaid program.
Karen M. Dale, R.N., MSN: Ms. Dale is the Market President for AmeriHealth Caritas District of Columbia, a Medicaid managed care organization. In addition to her role as Market President, Dale is the enterprise Chief Diversity, Equity, and Inclusion Officer (CDEIO). As CDEIO, Dale leads the planning and implementation of diversity and inclusion strategies across the organization to link workforce, workplace, health equity, and supplier diversity with measurable business and cultural outcomes.
Jocelyn Chisholm Carter, JD: Jocelyn is currently Regional President, Humana Medicaid in Florida. Formerly CEO of both NJ and Mississippi UnitedHealthcare Medicaid plans, Jocelyn's mission is to serve as a champion for and provide a voice to the underserved, impacting their health and wellness through advocacy and leadership. Her passion is leading teams that improve the health and welfare of vulnerable and underserved populations, where she has more than 15 years of leadership experience.
Gee, Dale and Carter were all referred to the SchoolCare Alliance through the Break into the Boardroom (BiB) program by Oxeon, a specialized professional services and investments firm that builds and accelerates the growth of impactful healthcare tech and services businesses.
About SchoolCare
SchoolCare is the leading provider of Student Health Records software in K-12 schools, powering the health of 1.6 million students across 29 states. SchoolCare's platform enables nurses to chart health events electronically, allows district leaders to pull health compliance reports and track outbreaks, and engages parents in their children's health. School districts and parents access the platform for free. The company partners with state departments, Managed Care Organizations and health systems to connect students to clinically appropriate, high quality care. For more information, visit http://www.schoolcare.com.