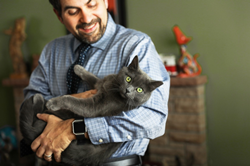 There is no reason to be concerned about your pet giving you COVID-19 as there have been no reported cases of it spreading from pet to person.
KANAB, Utah (PRWEB) April 23, 2020
It has been reported that two cats in New York have tested positive for COVID-19. While we are still learning about the virus spreading from people to animals, veterinary experts agree there is no evidence that pets can transmit the disease to people.
 
"There is no reason to be concerned about your pet giving you COVID-19 as there have been no reported cases of it spreading from pet to person," said Dr. Erin Katribe, medical director of Best Friends Animal Society. "Instead, it is important to practice social distancing and create a plan for the continued maintenance of the pets in your care if you're unable to leave the house, too sick to function at home, or become hospitalized."
 
Best Friends Animal Society has assembled a Pet Preparedness Plan, available in English and Spanish, to help pet parents ensure that they have the resources, supplies and plans in place in the event of illness. Best Friends also offers remote access to veterinary consultation services through their Vet Access app. 
 
Specific recommendations from the CDC state that while a person infected with COVID-19 is symptomatic, they should:
Maintain separation from household animals as they would with other household members
Avoid direct contact with pets, including petting, snuggling, being kissed or licked, sleeping in the same location, and sharing food
 
In accordance with the Americans with Disabilities Act, service animals should be permitted to remain with their handlers. If possible, a household member should be designated to care for pets in the home and should follow standard hand-washing practices before and after interacting with the household animal. 
 
If a person with COVID-19 must care for pets, they should ensure they wash their hands before and after caring for pets.
 
About Best Friends Animal Society
Best Friends Animal Society is a leading national animal welfare organization dedicated to ending the killing of dogs and cats in America's shelters. In addition to running lifesaving programs in partnership with nearly 3,000 animal welfare groups across the country, Best Friends has lifesaving centers in New York City, Los Angeles, Atlanta and Salt Lake City, and operates the nation's largest no-kill sanctuary for companion animals. Founded in 1984, Best Friends is a pioneer in the no-kill movement and has helped reduce the number of animals killed in shelters nationwide from an estimated 17 million per year to around 733,000. That means there are still about 2,000 dogs and cats killed every day in shelters, just because they don't have safe places to call home. We are determined to bring the country to no-kill by the year 2025. Working collaboratively with shelters, rescue groups, other organizations and you, we will end the killing and Save Them All. To check out our community lifesaving dashboard and for more information, visit bestfriends.org.
Join the conversation on Facebook.com/bestfriendsanimalsociety, Twitter (@BestFriends) and Instagram (@BestFriendsAnimalSociety)
Media contact:
Hannah Stember hannahs@bestfriends.org or (412) 537-0632