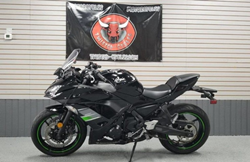 DALLAS (PRWEB) July 17, 2020
While continuously adding to their inventory, Twisted Cycles has several newer pre-owned motorcycles available. The dealership has one 2019 model, two 2018 models, and three 2017 motorcycle models for purchase between their Lubbock and Dallas locations.
Currently, the newest pre-owned motorcycle at Twisted Cycles is a 2019 Kawasaki Ninja. It features a 250cc 6-Speed transmission and comes in a black and green color scheme. It has a mileage of 6,823 and can be found at the Lubbock location.
Two 2018 models are also available for purchase in a 2018 Honda XR650L and a 2018 Triumph Bonneville Bobber. A dual-sport motorcycle, the Honda XR650L comes in red and has a mileage of just 587. Meanwhile, the Triumph Bonneville Bobber is a cruiser with only 201 miles on it. It also comes in red but features a 1200cc liquid-cooled parallel-twin engine under the seat.
Lastly, three 2017 models are available at Twisted Cycles. The first model is a 2017 Harley Davidson XL883L Superlow, which has only 110 miles driven on it. A second model is a 2017 Kawasaki Ninja 300 EX300-B. The sportbike has 7,845 miles on it and comes in a neon-green color. The final 2017 model is a blue 2017 Yamaha YZF-R3 and has a liquid cooling system. It has been ridden for just 518 miles.
Customers interested in the pricing of a motorcycle listed above are welcomed to contact Twisted Cycles directly for any questions or comments. To test drive or see one in person, customers can find each model either at their Dallas location on 7700 S Interstate 35 E in Corinth or their Lubbock location at 2401 S Loop 289. They may also be reached online at https://www.twisted-cycles.com/ or over the phone at 833-912-0272.