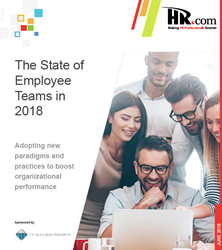 In order to create a high performing team, leaders need to become more aware of what drives their team to be successful. The responsibility falls to those talent professionals who craft effective team environments and team training
(PRWEB) August 14, 2018
Partnering with HR.com, TTI Success Insights recently released a study that uncovers most employers fail to train employers in the skills that address primary challenges teams are facing. Those challenges include a lack of accountability, difficulty in making decisions and lack of participation. TTI Success Insights will be providing a free webinar sharing this valuable information on 11 AM EDT, Thursday, August 23, 2018.
The study, The State of Employee Teams in 2018, is based on an industry survey conducted by TTI Success Insights and HR.com, a leading source that offers training and networking for human resources professionals globally to create inspired workforces. The survey gathered responses from 562 human resources professionals.
Almost half of the survey respondents said lack of accountability is one of their top challenges among teams. In addition, 47% said their teams have difficulty of making decisions and 44% cited lack of participation.
However, just over a third (36%) reported they develop employees in conflict management, which can benefit teams when making decisions. Again, only 36% respondents cited their organization as one that develops metrics and analytics to measure team performance. Without solid metrics, teams are more likely to lack of accountability. Only 29% of respondents reported their organizations train employees in consensus building. If teams are not skilled at consensus building, it will be difficult to gain participation.
In fact, the study found that organizations mostly spend their skill-training efforts on communication skills, collaboration and goal-setting.
"These findings are consistent with the challenges we see in the team management," said Candice Frazer, Director of Global Marketing of TTI Success Insights. "In order to create a high performing team, leaders need to become more aware of what drives their team to be successful. The responsibility falls to those talent professionals who craft effective team environments and team training."
The study also found today's organizations rely heavily on teams to get work done, and most employees work in teams. However, relatively few organizations appraise and measure performance at the team level.
A public webinar, Hacking Teamwork in 2018, led by Candice Frazer, will uncover the challenges teams face within the overall organization, what makes an excellent team perform well at scale and the most important roles for team leaders.
Participation in the webinar is complimentary. Webinar attendees will walk away knowledgeable about best practices to boost organizational performance today as well as the structure for successful team performance for the future.
Click here to learn more and register this webinar. All webinar participants will receive a free copy of the research report "The State of Employee Teams in 2018."
About HR.com
HR.com strives to help create inspired workforces by making HR professionals smarter. Over 1,100,000 HR professionals turn to HR.com as the trusted resource for education, career development, and compliance: thousands of lessons and tips in the HR Genius on-demand training library, 400+ webcasts yearly, the largest HR certification exam preparation practice supporting SHRM and HRCI certification, a legal compliance guidance program, 12 monthly themed interactive HR epublications, and 45+ primary research reports. HR.com offers the best training and networking for HR professionals globally 24/7/365. http://www.HR.com
About TTI Success Insights
TTI Success Insights reveals human potential by helping individuals to become more aware of themselves, the people around them, and the organization of which they are a part. TTI Success Insights offers assessments that measure aspects of a person through the use of multiple sciences including: behaviors, motivators, emotional intelligence, stress, competencies, and acumen. With nearly 30 million assessments delivered around the globe, TTI Success Insights provides the best assessments and reports to businesses managing their most important asset: their people. http://www.ttisuccessinsights.com