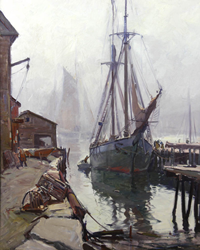 BEVERLY, Mass. (PRWEB) December 11, 2018
The Kaminski Auctions Annual Thanksgiving sale is a favorite of the calendar year. Old friends, dealers, and clients that are home for the holiday pass through the auction gallery at the preview or attend the auction. There is a festive atmosphere and both days are always well-attended by families and guests seeking something fun to do after the Thanksgiving feast. This year was no different. With a packed gallery, it was exciting to see the spirited bidding from the floor throughout the auction.
Paintings and jewelry were plentiful both days although Saturday kicked off with an unusual carved Vicenza stone fountain consisting of three parts, all intricately carved with a feline pedestal bottom, and stone pool with a mystical mask. This historic fountain was installed for Andrew Carnegie II in 1906 at his home in Manchester by the Sea, Massachusetts and sold to the audience for $11,500.
The sale continued with an Andy Warhol (1928-1987), 'Campbell's Beef Consommé Soup' screen-print in colors on paper, selling for $20,000. The print was rubber stamp numbered 43/250, ink signed, and published by Factory Additions, and printed by The Salvatore Silkscreen Company. Originally from the Martin Lawrence Gallery New York and referenced in Andy Warhol Prints, 4th edition by Feldman/Schellmann, Figure 11.52. It was finally hammered down at $20,000, again to a floor bidder.
The star lot of the weekend was a recently discovered marine painting by Emile Gruppe (1896-1978), titled The Old Timer. The painting previewed at the October auction of the William H. Trayes Collection held October 21st at the North Shore Artists Association in Gloucester, Massachusetts and garnered a lot of attention from the Cape Ann audience. The stunning oil on canvas of ships at a Gloucester dock in foggy conditions measured 50 inches by 40 inches and was dated 1977. The painting is thought to be one of the largest works completed by Gruppe. With over 6 phone lines and others on the floor bidding the oil on canvas rose to $34,000 and was purchased by a determined phone bidder.
American art in the sale continued with a vivid still life of a shotgun and rabbit, oil on canvas by the artist A.F. Tait selling for $15,000 and an F.S. Cropsey, from a California collection of an autumn view on the lake, signed and dated 1887 selling for $12,000. A Howard Logan Hildebrandt, water scene with mother and child, in its original carved giltwood frame, from a Wenham, Massachusetts estate sold for $8,500.
The sale continued with Russian and European artists taking the stage with a watercolor and gouache on board by the Russian artist Mstislav Dobuzhinsky (1875-1957), titled 'White Night, St. Petersburg', showing a view of St. Petersburg across the Neva River which brought $16,000. Russian art continued with strong prices as a Mikhail Marianovich Guermacheff (1868-1930), winter landscape, oil on canvas from a New York, New York collection brought $13,000, while a Leon Bakst (Russian, 1866-1924), 'Cleopatra - Costume Study', watercolor on paper, with The Fine Art Society, London, November 1960, label verso sold for $12,000.
European highlights included an Edmond Francois Aman-Jean (French, 1858-1936). A portrait of a French noble woman marked Mademoiselle V.G., oil on canvas that exhibited at the Paris salon in 1908 brought $9,000, and a Jean-Baptiste Camille Corot (French, 1796-1875), Barbizon landscape with pond sold for $8,000. From the German printmaker Albrecht Durer (1471-1528), 'The Doctor's Dream', an engraving on laid paper, circa 1515 brought $8,000 as well.
An important Tiffany & Co. designed sterling trophy with a detailed horse-jumping motif, marked 'The International Challenge Trophy' and 'National Horse Show Association of America' sold to the phones for $15,000. The trophy had been presented at the NHSA annual horse show held at Madison Square Garden starting in 1934. It is mounted on a mahogany base with sterling plaques engraved with the various winners from 1934 through 1957. The trophy also included a framed Cartier presentation scroll.
Italian marble statues are a fixture on the Kaminski roster and once again two entries in the auction from a Rome, Italy estate brought significant interest. A 19th century (or earlier) carved Italian marble of ' Faun depicting Zeus Ammon (Amon) on a newer stand, measuring 22 ½ inches high achieved $10,000 while an 18th century or earlier Greek marble sculpture of a woman's head mounted on a stone stand sold for $6,000.
Three entries by the famous contemporary glass blower Dale Chihuly achieved excellent results with a giant hand-blown glass macchia bowl, signed and dated 1987, displayed on a lighted Lucite revolving pedestal was hammered down for $10,000. Two additional lots which included a Dale Chihuly hand-blown red Persian sea form sculpture, signed and dated 1999 brought $5,000, while two smaller sea form bowls together with an original New York Botanical poster sold for $3750.
Outstanding jewelry collections from Palm Beach and a Martha's Vineyard estate pieces brought in the dealers and a large audience of woman and men buying for Christmas gifts. On offer were many highly desirable pieces including an eighteen-carat white gold diamond and ruby necklace, with seventy-eight straight baguette diamonds in groups of six, approximately G-I color, VS-SI, and one hundred and eighty-nine straight baguette rubies in groups of four, almost 19.0-carat troy weight which sold for $9,500. A stunning signed Buccellati 18-carat yellow and rose gold necklace with fifteen cabochon sapphires and approximately 58 grams troy weight sold for $8,000.
Tiffany brought strong prices with a signed Tiffany & Co. 18 carat yellow and white gold necklace with thirty-three round rubies and thirty-three heart-shaped clusters of five round diamonds selling for $5,500. A ladies' eighteen carat white gold natural ruby ring, with a 2.68-carat center stone, and GIC report sold for $5750.
Additionally, a signed David Webb, 18-carat yellow gold and platinum brooch with two cabochon emeralds, approximately 25.0-carat troy weight surrounded by seventeen cabochon rubies, and eighty-one round diamonds brought $5500.
Other disparate items of interest that sold well included a Carlo Bugatti chair that was finally hammered down at $6,500 and an elephant folio titled 'A Natural History of British Birds' by William Hayes, 1775, with a dedication to the Duchess of Northumberland. The folio, comprised of thirty-six hand-colored engravings including two double-page engravings, rebound in fine leather with gilt titles. Housed in a presentation box along with original covers and a complete restoration detail inside the case it was finally hammered down at $5,000. The book had significant provenance which traced it through the Clark family of New Jersey and originally
commissioned by George III for the Duchess of Northumberland.
Kaminski Auctions' schedule continues with their Annual New Year's auction on December 29th and 30th at the auction gallery at 117 Elliott Street, RT. 62, Beverly, Massachusetts. For more information go to http://www.kaminskiauctions.com and sign up to bid with KaminskiLIVE.