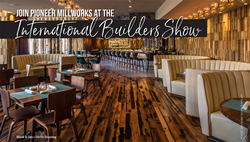 We're excited to connect with clients, new and known and share the latest in our wood products at IBS 2020
PORTLAND, Ore. (PRWEB) January 16, 2020
Pioneer Millworks, a leader in the reclaimed and sustainable wood industry, will exhibit in Las Vegas, NV at the 2020 International Builders' Show (IBS), the largest annual light construction show in the world. From reclaimed, antique weathered wood to fresh sawn sustainably harvested hardwoods to custom textures and finishes–all will be on display during the show. Pioneer Millworks wood and design team members will be available for meetings, local project walk-throughs, and conversation.
At the show Pioneer Millworks will share the most recent addition to their popular Shou Sugi Ban line of Larch charred wood paneling: Undressed. This variation, as the name teases, comes with no additional finish applied, celebrating the tones and textures achieved with the ancient Japanese technique of burning wood.
"We're excited to connect with clients, new and known," said Jered Slusser, sales leader at Pioneer Millworks. "This year we'll showcase the Undressed version of our Shou Sugi Ban line. It offers such texture and tone that each time we share it folks want to interact, to touch it and see it in various applications. It is easy to understand why it is a hugely popular product and we're looking forward to sharing it with folks at IBS."
The Undressed planks are burned then brushed to better expose the grain and texture of each unique board. It can be left to naturally weather and wear or be finished on-site. This grade joins three others: Deep Char which exposes an 'alligator-like' texture, Shallow Char which produces rich black and brown tones while maintaining saw marks and high relief grain texture, and Color Char which is charred, brushed, and burnished with color (most popular in blue, green, and red).
This year, the International Builders' Show will take place at the Las Vegas Convention Center (LVCC) with the Show running from 9am–5pm on January 21-23. Pioneer Millworks will be located at booth #N877. There are a number of complimentary tickets available from Pioneer Millworks for the show. Contact them directly for further information and details.
About Pioneer Millworks: For 30 years Pioneer Millworks has been inspired by all of you to develop creative reclaimed and sustainable wood flooring, paneling, and siding. Numerous species, grades, textures, and color options for architects, designers, builders, and homeowners are available. Options that are easy for builders to install; options that have a story that homeowners and end-users can connect with; options that are good for our people and our planet. Pioneer Millworks is FSC-certified and Green America approved. All of their products are LEED point eligible and many are UL GREENGUARD Gold certified.
About IBS: Each year, IBS brings together the industry's most important global manufacturers and suppliers and showcases the latest products, materials and technologies involved in all types of buildings – including wood, concrete, stone, and brick. More than 500,000 net square feet of exhibits and 1,300 manufacturers and suppliers are expected to attract 60,000 visitors from more than 100 countries.