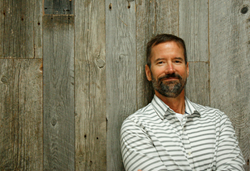 I'm looking forward to helping create customized spaces with reclaimed wood that celebrate, inspire, teach, and heal the human experience
Portland, Oregon (PRWEB) July 10, 2017
Pioneer Millworks announces the addition of Tim Roberts to the company's reclaimed wood design team in support of California and Nevada designers, architects, builders, and developers.
"We are committed to high-touch service in the design communities of California and Nevada," said Jonathan Orpin, Founder of Pioneer Millworks. "Our customers appreciate that our products are locally sourced, locally made, and supported by experienced local team members."
Tim Roberts grew up in Southern California and spent his career in the wood industry. He brings a passion for reclaimed wood and a penchant for sustainable design. He explains, "I'm looking forward to helping create customized spaces with reclaimed wood that celebrate, inspire, teach, and heal the human experience. I'm also excited to be part of a company that practices the Triple Bottom Line --People, Planet, and Profit."
Pioneer Millworks serves the nation from its West & East Coast mills, offering the largest line of reclaimed and sustainable wood products for design professionals and homeowners. True to their name, the company is known for pioneering innovative products in the market, such as reclaimed teak, an extensive palette of textures and finishing options, and multiple types of eco-engineered flooring.
About Pioneer Millworks:
Pioneer Millworks is the leader in the reclaimed wood industry. To date, they've rescued nearly 26 million board feet of old wood from rot and landfills, giving it new life as flooring, paneling, millwork, cabinetry, and more. All wood is manufactured in a way that's healthy for customers, employees, and the environment. Pioneer Millworks is FSC-certified and Green America approved. All their products are LEED point eligible.