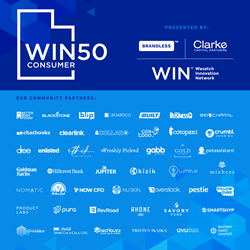 "The WIN50 Consumer accelerates the leaders and companies in this space by recognizing their impact, broadening their reach, and strengthening our entire consumer community."
SALT LAKE CITY (PRWEB) December 06, 2022
The Wasatch Innovation Network and the Consumer Summit have opened nominations for the inaugural WIN50 Consumer, a community-nominated and peer-selected process for identifying top founders, CEOs and entrepreneurs who are successfully building fast-growing consumer product brand companies. The WIN50 Consumer is designed to cultivate relationships among top founders, CEO, entrepreneurs and consumer talent, and accelerate Utah's consumer innovation ecosystem.
"Silicon Slopes is home to thousands of brands that are shaping the local and global consumer sector and economy," said Cydni Tetro, CEO of Brandless and co-founder of the Consumer Summit. "The WIN50 Consumer accelerates the leaders and companies in this space by recognizing their impact, broadening their reach, and strengthening our entire consumer community."
The WIN50 Consumer is an expansion of the WIN100—a program that recognizes the top leaders building high-growth companies across industries.
"Consumer brands and consumer tech are critical components of Utah's innovation economy, contributing locally and globally. We are excited to partner with the Consumer Summit and champions like Brandless and Clarke Capital Partners to identify and celebrate the founders and CEOs built and created here with the WIN50 Consumer," Elisabeth Nebeker, Program Director of Wasatch Innovation Network, a joint initiative of Salt Lake Chamber and TechBuzz News.
All Utah community members are invited to nominate consumer leaders and innovators who meet the following criteria:

Individuals who are successfully building fast-growing consumer brand companies
Individuals who may be the founder/CEO/entrepreneur of a new consumer brand company
Individuals are not required to be a Utah resident, but should have ties to the state
Nominations are due Monday, December 19, 2022.
The responses will be used to assemble a list of candidate nominees. These candidate nominees will then vote for their peers based on the above criteria. The results of this peer voting will determine the final results of the 2023 WIN50 Consumer. If they choose, finalists will have the ability to withdraw before publication and recognition.
APPLICATION DEADLINE:
Monday, December 19, 2022
11:59 p.m. MST
To submit a nomination, click here.
ABOUT THE CONSUMER SUMMIT
The Consumer Summit is an annual event that brings together the Silicon Slopes brands, companies, leaders, and key players that are shaping and trailblazing the global consumer industry. Started and inspired by Brandless and Clarke Capital, the event is designed to recognize the leadership and innovation of the Silicon Slopes consumer community and elevate the sector's success and global thought leadership platform. Visit consumersummit.org to find out more.
ABOUT WASATCH INNOVATION NETWORK
The Wasatch Innovation Network is founded on the belief that business leaders are stewards and creators, not just beneficiaries, of our entrepreneurial ecosystem. The Wasatch Innovation Network will provide a channel for that ecosystem and work to turn vision into reality through collaborating on innovation across industries, planning and creating to accelerate job growth, talent recruitment and economic prosperity. This will benefit the Wasatch Front, State of Utah, and Intermountain West in achieving transformative impact.