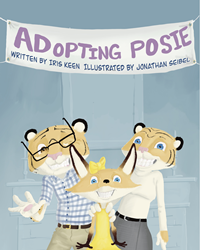 SCHAUMBURG, Ill. (PRWEB) May 20, 2021
Company leaders seeking to improve workplace culture often do so in obvious ways, from nurturing collaboration and open communication to establishing performance goals and rewards. Proactive Worldwide (PWW), a leading competitive intelligence company, has taken culture enrichment a step further by raising up employees for accomplishments outside of the workplace.
"Supporting employees in whatever way we can uphold our purpose to enrich the fabric of people's lives," says PWW President David Kalinowski. "An employee's source of pride in the workplace isn't limited to what happens on the job. Workplace culture transcends the workplace. Whenever there's an opportunity to make someone feel appreciated, we take it.
"Mostly recently, we learned that one of our employees, Iris Keen, had written and published an important new book for children. We're recognizing her accomplishment because we believe hard work and success deserve applause no matter where they happen. Through her new book, Iris can do a great deal of good for all kids as it relates to adoption," says Kalinowski.
Adopting Posie, written by PWW Analyst Iris Keen, formerly Iris Peters, is a look at adoption from the perspective of a child named Posie. When Posie discovers that her view of things doesn't always align with perceptions held by classmates, she attempts to teach them the true meaning of adoption.
Keen was born in Seoul, Korea, and adopted by her parents, Sherry and Peter Peters, when she was six months old. Three years prior, the Peters adopted her brother, Casey, from Korea.
"This book has been inside me since I was a kid," says Keen. "Growing up, I frequently talked to friends and classmates about adoption, and I always looked forward to celebrating my 'Gotcha Day' with my parents and brother. My hope is that Adopting Posie will become a positive influence for all young kids whenever the topic of adoption comes up."
Gotcha Day is a commonly used term to describe the anniversary of the day a person joins a family by adoption.
Keen joined PWW in 2020. She is a Penn State University graduate with degrees in Journalism and English.
About Proactive Worldwide
Proactive Worldwide is one of the world's leading market intelligence companies helping top-tier organizations understand vulnerabilities, better predict market shifts, and plan for growth with confidence. We examine competitors, suppliers, customers, regulatory issues, and more—through advanced competitive, market, and customer intelligence—to deliver a more complete picture of the decision-making environment with a far-reaching perspective that uncovers hidden opportunities and key threats. With 25 years of experience, we leverage our proprietary methodology, a deep bench of researchers and analysts, and in-house industry specialists to produce insights that have real impact. Learn more at https://proactiveworldwide.com