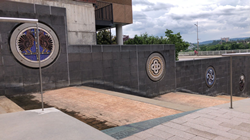 These villages were always under the threat of attack as settlers continued to believe in their right to these lands which were gifted by God to expand democracy and commerce across the United States
KNOXVILLE, Tenn. (PRWEB) November 14, 2021
In the Tennessee River Valley, there are many important Native American leaders who played active roles in the history of this country. Often overlooked in American History books, these leaders contributed to significant events in a region that served as a world stage for the political climate of a new nation, westward expansion and the struggle for sovereign rights of the tribes.
This year marks the 31st year since the United States first formally began celebrating an entire month designated to honoring the history of indigenous peoples' on the continent. It started in 1990 when President George H.W. Bush declared November the first National American Indian Heritage Month.
"Similar proclamations, under variants on the name (including "'Native American Heritage Month' and 'National American Indian and Alaska Native Heritage Month') have been issued each year since 1994," according to the official National Native American Heritage Month website, sponsored by the Library of Congress and the National Endowment for the Humanities, the National Park Service and other organizations dedicated to American historical preservation.
Understanding the legacy of the leaders such as Dragging Canoe, Nancy Ward, Sequoyah, Chief Tishomingo, and John Ross is to understand the battle for sovereign rights and legal claim to ancestral lands. These are people who had experienced invasions from the colonial empires of Great Britain, France, and Spain. The increasing tension between the Native Peoples and the white invaders colonizing lands owned by the Cherokee and Choctaw resulted in bloodshed, and ultimately the infamous Trail of Tears.
The Tennessee River Valley is home to multiple remembrance sites that recognize the legacy of these Native American leaders. Here are just a few worth a visit to gain a better appreciation of the saga of the Indigenous People in Southern Appalachia:

Sequoyah Birthplace Museum, Vonore, TN
Cherokee Removal Memorial Park at Historic Blythe Ferry in Birchwood, Tennessee
Nancy Ward Gravesite, Polk County, Tennessee
The Passage at Ross Landing in Chattanooga
The John Ross House in Rossville, Georgia
Rhodes Ferry Park in Decatur, Alabama
The Tennessee River Valley Stewardship Council serves as the steering committee and editorial board for the Geotourism MapGuide website. It is comprised of volunteers from a seven state region. The Council's efforts are made possible through the generous support of the Tennessee Valley Authority (TVA). For information on TVA's campgrounds and TVA's public trails, visit their website at http://www.tva.gov and click under the Recreation section.