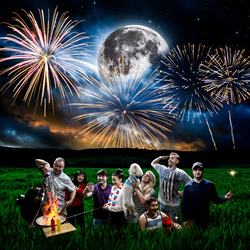 The Sparksight Team saw the results of their customer experience program through greatly improved customer retention rates and an all time high for client acquisition in 2018.
AUSTIN, Texas (PRWEB) January 31, 2019
Austin based video production agency, Sparksight, celebrates a record shattering 2018, closing out the year with a host of creative projects and unprecedented growth. This is a true homegrown success story of a small business working hard to overcome its growing pains and stay competitive as the landscape of the services industry changes. Sparksight is thrilled to announce a 17.7% year over year growth and looks forward to further advancement in 2019.
When Sparksight was founded in 2007, the company was a tech firm offering a variety of services in open source web development, trade show displays, and creative content development. The software services portion of the business found true a niche in the healthcare marketplace and eventually spun off to form the independent sister company, LeadingReach. In 2010, Sparksight moved its creative development department into an office with a dedicated studio for video production and a welcoming vibe for clients and partners to collaborate. The first few years were an uphill battle, overcoming major business model shifts, new expenses, and undefined identity, but everything changed in 2017, as Sparksight formed a solid foundation as a creative video production boutique.
In 2017, Sparksight launched a highly successful customer experience program that optimized the video production process, making it easier for clients to get the most from their videos. In addition to video production services, Sparksight began offering sophisticated B2B marketing strategy consultations to help clients incorporate new video messaging into effective marketing campaigns. CEO, Kelly Shores integrated his expertise in YouTube and video marketing analytics so that Sparksight could do more than hand over a final deliverable, but rather set clients up for success on the platform of their choice.
In 2018, Sparksight launched a customer appreciation award called "The Sparky Award" to recognize clients with particularly remarkable marketing campaigns. Each Sparky Award winner is celebrated with a congratulatory event and awarded a Sparky Trophy, presented by CEO, Kelly Shores. Winners of The Sparky Award to date are Luminex, Pivot3, FlashParking and Q2ebanking. Sparksight has also embraced and leveraged the local marketing community with Chandler Amoroso, Marketing and Client Success Manager becoming a co-leader of the B2B Marketing group for the Salesforce Community, hosting monthly networking events at Sparksight HQ.
The Sparksight Team saw the results of their customer experience program through greatly improved customer retention rates and an all time high for client acquisition in 2018. Sparksight historically sold into the B2B marketplace with a focus on healthcare and high tech, but 2018 turned out to be a breakout year with projects in a variety of B2C industries ranging from a big-screen theater advertisement for EVO Entertainment, to social media shorts for Big Red.
As the team hit their stride in video production, producing over 200 corporate videos in 2018 alone, Sparksight expanded and hired a full time Sales Director, Trudy Esquivel. The company saw double digit growth for increased revenue and the strongest profitability in the company's history to date. Esquivel attributes the remarkable success to commitment to core values; "Our top priority is building long-term relationships with our clients. Every member of the Sparksight team strives to deliver beyond expectations and build trust throughout the process of every project big or small." Esquivel and the Sparksight team are delighted by the burst of success but say they are even more excited for the growth to come. The foundation has been laid and Sparksight is ready to embrace 2019 as its most "game changing" year yet.
ABOUT SPARKSIGHT
Based in Austin, Texas, Sparksight is a full service, script-to-screen video production agency. Recognized as one of the top video production agencies in Austin, Sparksight specializes in high-quality live action and animated corporate video production to suit their clients' needs. Services offered include; Live Streaming Corporate Events, Product Explainer Videos, Professional Head Shots, Customer Testimonial Videos, Event Highlight Reels, Animated Videos, and Live Action Commercial Production. Sparksight has its own in-house studio and teleprompter that are available for rental. For more information please visit our Instagram, LinkedIn, or http://www.sparksight.com. For questions please email chandler@sparksight.com.