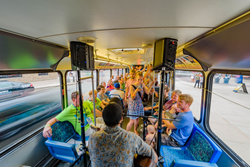 Going into the sixth year, it was exciting to see such a great energy surrounding the festival, with people who are so receptive to what we're doing here and attendance numbers that continue to climb.
APPLETON, Wis. (PRWEB) September 10, 2018
A Wisconsin-based original music festival, Mile of Music, presented by Tundraland, returned August 2-5 for its much-anticipated sixth installment – Mile 6. The free festival drew a record 85,000 visitors and organizers estimate it had an economic impact of $3.2-$3.5 million.
Throughout the weekend, more than 200 artists performed 900 live music sets at 70 venues up and down the one-mile stretch of Downtown Appleton at indoor/outdoor stages of all sizes. It was a mix of local and national up-and-coming artists on the line-up, some returning to the festival from years past and others coming to perform for the first time.
"Going into the sixth year, it was exciting to see such a great energy surrounding the festival, with people who are so receptive to what we're doing here and attendance numbers that continue to climb," said Dave Willems, whose firm, Willems Marketing & Events, produces Mile of Music. "Because the music is free, we're seeing a trend toward music-lovers who return for multiple days and spend in support of the artist/festival merchandise, Downtown businesses and other area organizations."
Mile 6 continued its mission to highlight original music versus cover songs and saw the return of some favorite acts like LOLO (Jackson, TN), Dan Rodriguez (Minneapolis, MN), Cat Clyde (Ontario), and SZLACHETKA (Nashville, TN). It also welcomed the talents of many new artists, including Sarah Potenza (Nashville, TN), The Brothers Footman (Indianapolis, IN), Michigander (Midland, MI), Girl Blue (Albany, NY) and Melodime (Washington, D.C.).
To put on an event of this magnitude, Mile 6 received the support of nearly 60 key sponsors, including Tundraland, the festival's generous presenting sponsor for the last four years. It was also backed by a number of product sponsors that add flavor, including Klements, Trilliant and Stone Arch Brewpub – the official craft beer partner of the festival, which offered its signature Americana Pale Ale.
The festival continued its Artist Care program this year as a way to give back to the touring musicians, with complimentary services for things like dental care and massage therapy. Mile 6 also continued its partnership with About Better Care Audiology to provide nearly 100 hearing screens, and it welcomed a new collaboration with the Grammy Foundation's MusiCares program that provided over 100 sets of custom-made musician earplugs.
While having his ear plugs made, one artist said, "I never had the spare funds to buy them but know what a valuable investment they are and feel I should have to pay." As Dr. Stephanie Long of About Better Care reminded him, "[His] payment came in the form of performing multiple sets to an appreciative community of music fans."
Along with the artists, Mile 6 fans were treated to some special perks throughout the weekend as well. There were 50 interactive sessions organized by the Music Education Team (MET) that allowed festival attendees to get in on the music-making, with everything from drum circles and dance demos to songwriting sessions and instrument workshops. MET members from Lawrence University coordinated these activities and included performing artists in leading some of them. On top of that, the Mile of Music bus proved to be a hit again as it completed 55 tours of Downtown Appleton throughout the weekend with live performances from the musicians. Lines formed with people hoping to catch a ride, and there was a waiting list full of artists who wanted to perform. Additionally, the weekend's events started with the traditional "First Songs," ended with "A Song Before We Go" and featured a variety of surprise, pop-up performances in-between at venues along College Avenue that make up The Mile.
As Alaina Stacey of the group Maybe April said, "This was the perfect way to wrap up our summer tour. Thank you to Mile of Music for reminding us why we love music so much!"
Festival organizers have announced that Mile 7 will return to Appleton, Wisconsin, from August 1-4, 2019. To learn more about the music festival, visit http://www.mileofmusic.com.
ABOUT MILE OF MUSIC
Mile of Music is an original roots music festival that launched in August 2013 as a creative and economic catalyst in Downtown Appleton, Wis. The four-day festival, produced by Willems Marketing & Events, is held in August with the support of more than 60 community sponsors and 400 volunteers. It features 900 live music sets and 200 artists at 70 venues along the one-mile, walkable stretch of College Avenue and the nearby riverfront.