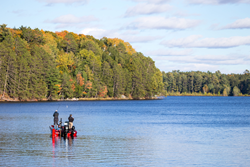 The Eagle River Chain of Lakes and surrounding Vilas County account for nearly 17% of Wisconsin's trophy waters
EAGLE RIVER, Wis. (PRWEB) September 09, 2019
While many people associate Wisconsin falls with football, anglers look forward to it for a different reason – musky fishing. According to the Wisconsin Department of Natural Resources (DNR), mid-August to mid-November is the best time for catching these legendary top-of-the-food-chain predators, with October the best month overall.
Interest in musky fishing has never been greater, as evidenced by the record 1,366 anglers who participated in the 2019 National Championship Musky Open, held August 16-18 on Vilas County's Eagle River Chain of Lakes. Surrounded by state and national forests, the Eagle River/Vilas County region encompasses more than 1,300 lakes and accounts for nearly 17 percent of what the state DNR defines as Class A1 "trophy waters," meaning they contain the highest percentage of large musky (which routinely grow to 50-plus inches). Vilas County also leads the state with 29 percent of its Class A2 lakes – waters that have the greatest overall numbers of game fish and provide the most consistent musky action.
Premiere angling spots on the Eagle River Chain of Lakes include Cranberry Lake, where recent DNR research found 75 adult musky; and Eagle Lake, where 68 adult musky were found. Other notable musky lakes in the area include Catfish, Duck, Otter, Lynx, Scattering Rice and Yellow Birch.
Hopeful trophy hunters who aren't familiar with the Eagle River Chain can cast their attention toward one of many guides in the area. Local fishing guides can share tips on where the biggest fish are lurking during their pre-winter feeding frenzy, and which baits are most effective.
For anglers with other outdoor interests, Eagle River can serve as an ideal place for paddlers, mountain bikers, hikers and ATV/UTV enthusiasts. The Eagle River area includes hiking and biking routes in the Nicolet National Forest, as well as trails developed by the Vilas County Forest Hunter/Hiking Trail System and the Great Headwaters Trails. The growth of events such as Journeys Marathon and the SepTimber (Bicycle) Ride has also contributed to the progress of active sports tourism in the area.
Additional fishing information and full list of Eagle River area events and activities can be found on the Eagle River Chamber of Commerce website, http://www.eagleriver.org.