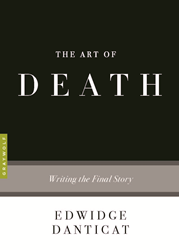 Prince Frederick, MD (PRWEB) November 09, 2016
Recorded Books, a leading publisher of spoken-word content and the largest independent publisher of audiobooks, is thrilled to be the audio publisher for The Art of Death: Writing the Final Story, the next book by Edwidge Danticat (pronounced Ed-WEEDJ Dan-ti-KAH). She is a two-time finalist for the National Book Award, and has received the National Book Critics Circle Award and other honors. Nearly her entire catalog has been produced in audio by Recorded Books.
Edwidge Danticat's The Art of Death: Writing the Final Story is at once a personal account of her mother dying from cancer and a deeply considered reckoning with the ways that other writers have approached death in their own work. "Writing has been the primary way I have tried to make sense of my losses," Danticat notes in her introduction. "I have been writing about death for as long as I have been writing." The book moves outward from the shock of her mother's diagnosis and sifts through Danticat's writing life and personal history, all the while shifting fluidly from examples that range from Gabriel García Márquez's One Hundred Years of Solitude to Toni Morrison's Sula. The narrative, which continually circles the many incarnations of death from individual to large-scale catastrophes, culminates in a beautiful, heartrending prayer in the voice of Danticat's mother. A moving tribute and a work of astute criticism, The Art of Death is a book that will profoundly alter all who encounter it.
Fiction writer Edwidge Danticat conjures the history of her native Haiti in award-winning nonfiction, short stories and novels. She is equally at home describing the immigrant diaspora and the reality of life in Haiti today. Brother, I'm Dying, which won the National Book Critics Circle Award for Autobiography, was praised by the New York Times as "Remarkable … A fierce, haunting book about exile and loss and family love." Breath, Eyes, Memory was an Oprah Book Club® Selection and hailed as "a passionate journey through a landscape charged with the supernatural and scarred by political violence … that bears witness to the traditions, suffering, and wisdom of an entire people."
Other critically acclaimed titles include The Dew Breaker, Mama's Nightingale, and the short-story collection Krik? Krak!, which earned her a National Book Award nomination. Her most recent book, Claire of the Sea Light, was a New York Times Book Review and Washington Post Notable Book of the Year, a NPR "Great Read," a Christian Science Monitor Best Fiction Book, and a Library Journal Top Book.
The Art of Death audio will release simultaneously with the print book in July 2017.
###
For more information or to purchase Recorded Books audiobooks, visit our website.
About Recorded Books, Inc.
Recorded Books is a leading publisher of spoken-word content. It is the largest independent publisher of audiobooks and provider of digital media to consumer, retail, professional, school, library and infotainment markets. The company owns an exclusive catalog of more than 27,000 audiobook titles narrated by professional, award-winning actors. Recorded Books also provides digital audiobooks and eBooks, as well as other compelling third-party content, including digital magazines and films. The company operates in the United Kingdom through its W. F. Howes subsidiary and in Australia through its Wavesound subsidiary. Recorded Books was founded in 1979 and is headquartered in Prince Frederick, MD. For more information, visit recordedbooks.com.