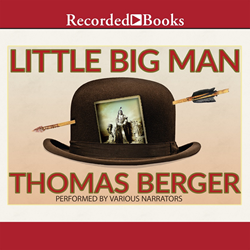 We honor the authors who put their stories on the page and the actors who bring their stories to life.
Prince Frederick, MD (PRWEB) May 13, 2016
The Audio Publishers Association (APA) awarded Recorded Books, Tantor Media and christianaudio three wins at the 2016 Audie Awards held May 11 at the Adler Planetarium in Chicago.
LITTLE BIG MAN won for the Literary Fiction & Classics category. Published by Recorded Books, written by Thomas Berger, and narrated by Scott Sowers with cameos by David Aaron Baker and Henry Strozier, LITTLE BIG MAN is an epic account of the American West and one man's extraordinary double life.
The other titles nominated for the Literary Fiction & Classics category were THE FISHERMEN by Chigozie Obioma, narrated by Chukwudi Iwuji, published by Hachette Audio; KIDNAPPED by Robert Louis Stevenson, narrated by Kieron Elliott, published by Recorded Books; SWEETLAND by Michael Crummey, narrated by John Lee, published by HighBridge Audio; and 'TIL THE WELL RUNS DRY by Lauren Francis-Sharma, narrated by Ron Butler and Bahni Turpin, published by Tantor Media.
THE HIGHWAYMAN was the winner in the Romance category. Published by Tantor Media, written by Kerrigan Byrne, and read by Derek Perkins, THE HIGHWAYMAN is the first in the To Tempt a Highlander series featuring wily widow Farah and dangerously sexy Dorian.
THE HIGHWAYMAN was up against four other titles: THE DUKE'S HOLIDAY by Maggie Fenton, narrated by Sue Pitkin, published by Brilliance Audio; NEVER JUDGE A LADY BY HER COVER by Sarah MacLean, narrated by Justine Eyre, published by HarperAudio; THE SECRETS OF SIR RICHARD KENWORTHY by Julia Quinn, narrated by Rosalyn Landor, published by HarperAudio; and A SORCERESS OF HIS OWN by Dianne Duvall, narrated by Kirsten Potter, published by Tantor Media.
THE BOY BORN DEAD won in the Inspirational/Faith-Based Non-Fiction category. Published by christianaudio, written by David Ring, David Wideman and John Driver, and narrated by Paul Michael, THE BOY BORN DEAD is a story of friendship, courage and triumph featuring a boy, literally born dead, who survives with sobering consequences.
The other Inspirational/Faith-Based Non-Fiction finalists were AND THEN THERE WERE NUNS by Jane Christmas, narrated by Elizabeth Wiley, published by Post Hypnotic Press; GLORY DAYS by Max Lucado, narrated by Ben Holland, published by Thomas Nelson/HarperAudio; THE PASTOR'S WIFE by Sabina Wurmbrand, narrated by Sadie Alexandru, published by christianaudio; and THROUGH THE EYES OF A LION by Levi Lusko, narrated by Levi Lusko, published by Thomas Nelson/HarperAudio. The win follows the Recorded Books acquisition of christianaudio on May 5.
"Our family of companies brings diversity to the audiobook industry, and we are pleased to be honored by the APA for excellence in audiobook narration," said Ed Longo, chief operating officer at Recorded Books. "With our recent acquisition of christianaudio, Recorded Books continues to grow its extensive catalog of audiobook titles, and we look forward to what's in store for the future."
"The breadth of our content offerings across the Recorded Books companies allows us to publish authors of nearly every type and appeal to listeners of nearly every type. We will always work to serve this family of authors by marrying their work with the best narrators and the highest quality recordings," said Troy Juliar, Recorded Books' chief content officer. "We honor the authors who put their stories on the page and the actors who bring their stories to life. Congratulations go out to all of the Audie Award winners."
The audiobook industry's premier awards program in the United States, the Audies recognizes distinction in audiobooks and spoken-word entertainment. Often referred to as the "Oscars of spoken-word entertainment," the evening marks an industry-wide gathering of authors, narrators and publishers.
For 2016, three new awards were added for Excellence in Design, Marketing, and Production. Award-winning stand-up comedian and author Paula Poundstone emceed the event, which marked the 21st Annual Audies Gala.
Recorded Books and its family of companies, including Tantor Media, HighBridge Audio and christianaudio, received 25 nominations for the 2016 Audie Awards.
###
For more information or to purchase any of our award winners and nominees, visit http://www.recordedbooks.com. To view the complete list of winners, click here.
About Recorded Books, Inc.
Recorded Books is the largest independent publisher of unabridged audiobooks and provider of digital media to consumer, retail, professional, school, library and infotainment markets. The company owns an exclusive catalog of more than 27,000 audiobook titles narrated by professional, award-winning actors. Recorded Books also provides digital audiobooks and eBooks, as well as other compelling third-party content, including digital magazines and films. The company operates in the United Kingdom through its W. F. Howes subsidiary and in Australia through its Wavesound subsidiary. Recorded Books was founded in 1979 and is headquartered in Prince Frederick, MD. For more information, visit recordedbooks.com.