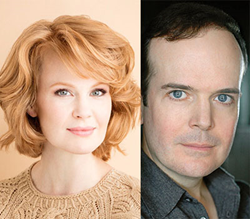 Our relationship with these actors speaks to how deeply Recorded Books is woven into the New York theater community.
Prince Frederick, MD (PRWEB) May 03, 2017
Jefferson Mays and Kate Baldwin, two popular narrators for Recorded Books, an RBmedia company, have received 2017 Tony Award nominations.
Mays was nominated in the category of Best Performance by an Actor in a Leading Role in a Play for his role in "Oslo," and Baldwin was nominated in the category of Best Featured Actress in a Musical for her work in "Hello, Dolly!"
Troy Juliar, chief content officer of Recorded Books, said, "It is important for both actors to know how much we appreciate and herald their work. Our relationship with these actors speaks to how deeply Recorded Books is woven into the New York theater community. What happens in that sound booth is true art."
Before "Oslo," Jefferson Mays appeared in Broadway's revival of "The Front Page." He made his Broadway debut in the solo drama "I Am My Own Wife," earning a Tony Award for Best Actor. He has also appeared on Broadway in "Pygmalion," "Journey's End," "The Best Man" and "A Gentleman's Guide to Love and Murder."
Mays' film and TV credits include "Kinsey," "Alfie" and "The Good Wife." He has recorded nearly 50 audiobooks for Recorded Books, including the Expanse series by James S.A. Corey, "The Found and the Lost" by Ursula K. Le Guin, "Cave Dwellers" by Richard Grant, and the forthcoming "Mother Land" by Paul Theroux.
Baldwin starred on Broadway in "Finian's Rainbow," "Big Fish," and "Fiorello!" She received Drama Desk nominations for both "Giant" and "John & Jen" and starred off-Broadway in "Songbird."
Baldwin's television credits include "Law & Order: SVU," Stephen Sondheim's "Passion" and the John Kander and Fred Ebb retrospective "First You Dream." Her solo recordings include "Let's See What Happens" and "She Loves Him." Baldwin has narrated exclusively for Recorded Books and her narration work includes titles by authors Irene Hannon, Ashton Lee, Amy Conner, and Nancy Martin.
To view the full list of 2017 Tony Award nominations, click here. The 71st Tony Awards will be held on June 11 at Radio City Music Hall in New York City.
About Recorded Books Inc.
Recorded Books is a leading publisher of spoken-word content. It is the largest independent publisher of audiobooks and provider of digital media to consumer, retail, professional, school, library and infotainment markets. The company owns an exclusive catalog of more than 27,000 audiobook titles narrated by professional, award-winning actors. Recorded Books also provides digital audiobooks and eBooks, as well as other compelling third-party content, including digital magazines and films. The company operates in the United Kingdom through its W. F. Howes subsidiary and in Australia through its Wavesound subsidiary. Recorded Books was founded in 1979 and is headquartered in Prince Frederick, MD. For more information, visit recordedbooks.com.
###