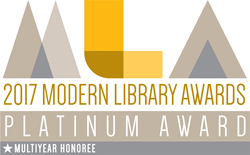 This much-deserved award is just further proof of the value that Transparent Language brings to our digital offerings.
Prince Frederick, MD (PRWEB) January 18, 2017
For the second consecutive year, Recorded Books' partner Transparent Language Inc., a leading provider of language-learning technology, has received a Platinum Award for Transparent Language Online in the LibraryWorks third annual Modern Library Awards (MLAs).
The MLAs were created to provide an unbiased format for recognizing the top products and services in the library industry. Nominations were submitted in the fall and posted on a private site with an enhanced description and supporting materials. These products were batched into small groups and sent to the LibraryWorks database of more than 80,000 librarians at public, K through 12, academic, and special libraries.
To achieve unbiased scores, only customers who had experience with these products and services were permitted to judge. Each judge scored the products from 1 to 10 on criteria that included functionality, value, and customer service.
"It is an honor to receive the Platinum Award for Transparent Language Online for the second year in a row," noted Michael Quinlan, chief executive officer of Transparent Language Inc. "Libraries are at the center of today's dynamic changes on how people get information and knowledge. We love supporting them in all that they do."
Transparent Language Online is Transparent Language's premier language-learning system for libraries, schools, corporate organizations, and independent learners. With this ever-evolving product, subscribing organizations and learners always receive the latest upgrades as they are released. New updates in 2016 included the following:

iPad App: The iPad app allows learners to work offline—content can be downloaded and then learned (even without an internet connection). The next time the app is connected to the internet, all of their progress will sync automatically.
New Content: From Word of the Day courses to elementary French and Spanish for grades three to six, to intermediate-level English, numerous new courses across different languages and proficiency levels have been added to Transparent Language Online.
Daily Refresher Emails: Users can now opt in to daily refresher email reminders, which will prompt them to practice words and phrases deemed "stale" by the program's algorithm.
More Practice Activities: Now with even more activities to choose from, users can select the content they want to learn and the skills they want to practice to achieve their goals.
New Support Widget: Learners can now quickly and easily direct any problems, questions, or feedback to the team at Transparent Language through the built-in support widget.
Jenny Newman, publisher and MLA program manager, said, "Transparent Language Online is a product that is under consistent evolution through feedback from public libraries and other organizations. We're delighted to be able to present Transparent Language with the Platinum Award two years running."
Specially configured versions of Transparent Language Online, featuring support for over 100 languages, are available for educational institutions, corporations, and public libraries. Transparent Language Online for independent learners is available from the company's website. Transparent Language Online is available to public libraries through Recorded Books Inc.
"We are proud to be partnered with such a dynamic product," said Jim Schmidt, Recorded Books vice president of sales and marketing. "This much-deserved award is just further proof of the value that Transparent Language brings to our digital offerings."
###
To view Transparent Language's original press release, click here.
About Transparent Language Inc.
At Transparent Language, we leverage our expertise in technology and in the research and practice of language learning and teaching to build unique capabilities for use by US Government agencies and organizations, as well as hundreds of public libraries, thousands of schools, and millions of individuals. We care about all languages, regardless of commercial value. We believe that language technology needs to work for all courses and curricula, not just a few courses. It needs to benefit not only individuals, but entire programs. We believe that great language technology not only changes the user experience; it transforms the economics, logistics, and reliability of language learning.
About Recorded Books Inc.
Recorded Books is a leading publisher of spoken-word content. It is the largest independent publisher of audiobooks and provider of digital media to consumer, retail, professional, school, library and infotainment markets. The company owns an exclusive catalog of more than 27,000 audiobook titles narrated by professional, award-winning actors. Recorded Books also provides digital audiobooks and eBooks, as well as other compelling third-party content, including digital magazines and films. The company operates in the United Kingdom through its W. F. Howes subsidiary and in Australia through its Wavesound subsidiary. Recorded Books was founded in 1979 and is headquartered in Prince Frederick, MD. For more information, visit recordedbooks.com.
About LibraryWorks
LibraryWorks helps administrators to make informed decisions about library technology, automation and software, collection development and management, facilities and furnishings, staffing, purchasing, and other areas that drive effective strategic planning and day-to-day operations. Our family of resources can enable you to identify best practices, monitor trends, evaluate new products and services, apply for grants and funding, post or find a job, and even enjoy some library humor.
About the Modern Library Awards Program
The Modern Library Awards (MLAs) is a program designed to recognize elite products and services in the library market, which can help library management personnel enhance the quality of experience for the library user and increase the performance of their library systems.