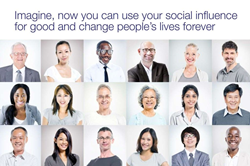 We are grateful for our heart centered judges who will choose an inspiring winner
Santa Monica, Ca (PRWEB) September 08, 2016
According to Recruiting for Good founder, Carlos Cymerman, "We are grateful to have judges that make America great; Linnea is the winner of our last contest, Michelle coaches people to use video, Marie has co-hosted happily divorced parties with Carlos, Neferteri is the founder of Single Moms Planet a nonprofit, and Ruth is the founder of Universal Mom Global."
America is Great Contest
People will submit a two minute video testimonials of their social accomplishments to be reviewed by judges. The submissions will be judged on authenticity of work accomplished, inspiration, and creativity. Deadline to submit video link is November 8th, 2016. Must be 21 years of age to participate and live in California.
Rewarding New Year's Hawaii Trip
Winner will be announced on November 15th, 2016. Trip includes 2 round-trip flights from continental U.S. to Hawaii, 5 day stay at hotel in Waikiki, Hawaii.
About
Recruiting for Good, is a fun cause based staffing company, that has been connecting talented technical professionals to great jobs since 1998. Our mission every year is to reward people who make a difference, funding for travel to save 50% or more on destinations http://www.RecruitingforGood.com.
Ruth Klein has appeared in O: The Oprah Magazine and has been interviewed in The Wall Street Journal, The Chicago Tribune, Family Circle, Reader's Digest,Washington Post online to name a few. Ruth is the author of six best-selling books and founder of Universal Mom Global program, "Helping children and teens uncover their talents through the art of writing;" to learn more visit UniversalMomGlobal.com
Neferteri Plessy is a model, TV personality, television producer and founder of Single Moms Planet. Becoming a model at 17, and appeared in a variety of magazines and publications; including music videos and television shows such as "The Parkers," "Method and Red" and others as well co-host VH1's "Sex & Rock Roll." Possessing a vision, passion and having spent a year gathering concerns from single mothers in her life, Ms. Plessy launched Single Moms Planet, a nationwide movement designed to educate, empower, and up lift single mothers and their children. The Single Moms Planet motto from day one has been "Empower a Single Mom, Empower the World." To learn more visit singlemomsplanet.com
​​Michelle White Hart has taught hundreds of Highly sensitive Coach-preneurs how to dance with their visibility and techno-phobia so that they can fully express themselves authentically on video and attract committed clients from around the world. Visit michellewhitehart.com
Marie Gilman is a Motivation and Personal Branding Coach founder of MEND - rebuild & rebrand post relationship; A custom one on one program for men needing a push to move forward and thrive after a difficult divorce. Through her personal divorce & life experience, Marie brings her insight and a women's perspective to help men understand what happened and offer guidance, motivation, inspiration, personal branding and a swift kick needed to take charge and become a better father and a better ex-husband. Visit MarieGilman.com
Linnea M. Duvall is a Marriage Family Therapist in Santa Monica, "Teens and families are my passion, because it is in our families that the future is forged." To learn more about her practice, check out linneamduvallmft.com. In addition, Linnea is also a creative social entrepreneur, creating; 'Glad Bags' a line of accessories and handbags, "handcrafted by women artisans in Latin America, from gathered "rags" if you will: soda can tabs, inner tube from tires, and a line made from candy wrappers;" visit GladBagRags.com