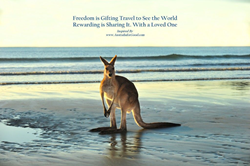 Want to fly anywhere for just $100 dollars. Simply connect your family and friends to great jobs with Recruiting for Good
Santa Monica, CA (PRWEB) May 11, 2017
Recruiting for Good, a fun based social staffing company is rewarding Information Technology candidate referrals with round-trip flight rewards. Reward is available to anyone living in the U.S.
According to Recruiting for Good Founder, Carlos Cymerman, "In an effort to inspire work life balance, Recruiting for Good rewards candidate referrals with flights to making seeing the world easier and more affordable."
How to Sign Up and Enjoy International Flights for $100
1. Be 21 years old, and make a difference in the community.
2. Make a professional candidate referral to enable recruiting.
Information technology candidate referrals must live in the United States be US Citizens, US residents, or have EAD status, and complete 90 days of employment. Recruiting for Good rewards economy international flight booked with Silver Lining Travel.
To start today email Carlos(at)RecruitingforGood(dot)com.
About
Recruiting for Good, a fun cause-based staffing company that has been connecting talented technical professionals to great jobs since 1998. Our fun mission is inspiring people to kickass, and party for good. To find great talent often, your next job, or enjoy international flights for $100 email Carlos(at)RecruitingforGood(dot)com
Silver Lining Travel is a fully licensed and highly reputable travel agency based in Hemet, CA to book flights, cruises, and adventures checkout Silver Lining Travel.