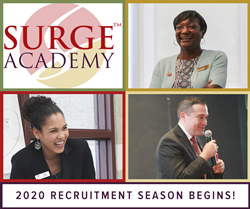 "How can one define an experience of this nature...thought-provoking, healing, reflective, transformative, empowering and purpose-driven to help one develop their authentic voice while activating their superpowers!"
KANSAS CITY, Mo. (PRWEB) September 18, 2019
The Surge Institute is thrilled to announce the beginning of recruitment for the next cohort of emerging leaders of color for the 2020 Surge Academy in Kansas City.
The Surge Institute was founded over 4 years ago with the mission to address the dearth of empowered and elevated representative leaders at the decision-making table in education, specifically for African-American and Latinx communities. The organization has evolved in so many ways, taking on a life of its own and becoming a national movement for all members of the Surge family, with a key milestone for the movement being the creation of the Surge Academy.
The Surge Academy is a signature program dedicated to uniting and transforming emerging education leaders of color in small and mid-sized cities all over the country. The inaugural class of Surge Academy Fellows graduated earlier this year, with each of them continuing to take on positions of greater leadership and influence the education landscape in Kansas City and beyond.
2019 Surge Academy Alumna and Educator-in-residence and Chief Student Officer of the Real World Learning team in Education for the Ewing Marion Kauffman Foundation, Yolanda Waldon, said it well, "How can one define an experience of this nature...thought-provoking, healing, reflective, transformative, empowering and purpose-driven to help one develop their authentic voice while activating their superpowers!"
All educational leaders who are interested in joining the Surge movement or partnering with the organization are welcome to attend any of the upcoming events listed below. You can follow the Surge Institute on social media to stay up to date on Surge's collective work.
Important Dates and Information:

Partnership Breakfast - October 3rd, 2019
Applications open - October 11th
Informational Webinar - October 23rd, 2019
Community Recruitment Mixer - November 14th, 2019
Applications close - December 2nd
Visit http://www.surgeinstitute.org/academy to learn more about the Surge Academy.