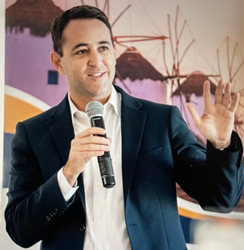 "The course was organized, highly professional and addressed every detail possible to ensure a truly life-changing experience for all participants," Red Banyan CEO Evan Nierman said. "I am looking forward to appearing at EO chapters all over the world as a certified speaker."
FORT LAUDERDALE, Fla. (PRWEB) December 06, 2022
Red Banyan CEO and Founder Evan Nierman has been certified as a public speaker by the international Entrepreneurs' Organization (EO) after completing its Global Speakers Academy, leading crisis PR firm Red Banyan announced today.
EO is a peer network composed of business owners whose aim is to help entrepreneurs achieve their full potential through life-enhancing connections that lead to infinite possibilities. The global organization is dedicated to helping businesses achieve measurable shifts in business performance.
The elite speaking course included instruction by Eric Silverberg and Eli Gladstone, co-founders of the Toronto-based Speaker Labs, a company whose mission is to teach people to become "exceptional public speakers."
Nierman's intensive speaker training took place at Ashridge House outside of London in the United Kingdom. Acceptance to the program is competitive and Nierman was among approximately two dozen applicants chosen from a field of hundreds. The group spent a week focusing on how to create unique talks they could present to organizations that would provide real take-home value.
The Global Speakers Academy brought together entrepreneurs from EO chapters from across the globe, including the United States, Turkey, the United Arab Emirates, Holland, Tanzania and a wide range of other nations.
During the week, participants attended lectures and worked in small groups to provide one-on-one feedback to each another. Participants also received individual coaching from Speaker Labs leaders Eric Silverberg and Eli Gladstone.
"Eric and Eli created a memorable, inspiring and highly instructive course for all of us. These talented communicators really know what elements are needed to ensure success in public speaking, and how to impart that knowledge in a manner that's approachable, accessible, fun and interesting. It was a truly excellent experience," Nierman noted. "The course was organized, highly professional and addressed every detail possible to ensure a truly life-changing experience for all participants. I am looking forward to appearing at EO chapters across the United States and all over the world as a certified speaker."
Nierman added, "There is nothing more invigorating and inspiring than being able to share content with other business owners knowing that it is going to propel their businesses and their lives forward. I want to express my tremendous appreciation to the Global Speakers Academy and all the people who put together for one of the most powerful, inspiring weeks in my professional life."
In addition to serving as CEO and Founder of Red Banyan, Nierman is the author of the Amazon bestseller Crisis Averted: PR Strategies to Protect Your Reputation and Bottom Line, with a second book on cancel culture due out in spring of 2023 by Skyhorse Publishing.
The Cancel Culture Curse will define for the first time the elements of cancel culture and provide readers with tools to recognize cancel culture, survive cancel culture and move past cancel culture.
Since its launch in late 2010, Red Banyan has continued to grow, establishing itself as one of the leading crisis PR agencies in the United States. Red Banyan provides crisis management, litigation support, media relations and other strategic communications services to a variety of national and global clients.
About Red Banyan
Red Banyan is a top crisis management firm focused on solving complex, highly sensitive and mission-critical communications challenges. Specializing in crisis communications, corporate public relations, government relations, and legal PR, Red Banyan provides an integrated approach to communications rooted in strategy. Learn more at https://redbanyan.com.