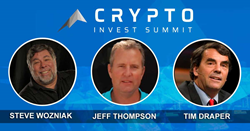 HUMACAO, Puerto Rico (PRWEB) October 22, 2018
Red Cat Propware, a global developer of drone analytics, today announced that its founder and CEO, Jeff Thompson, will present at the Crypto Invest Summit scheduled for October 22nd — October 24th, 2018 at the Los Angeles Convention Center in Los Angeles, California.
The Crypto Invest Summit is the leading conference & summit focused on sustainable investing in blockchain technologies, and Mr. Thompson will present on the Pitch Stage on Wednesday, October 24th, 2018 at 11:15am PST.
Mr. Thompson will discuss the company's security token offering.
He will also discuss the company's recent launch and progress of its beta program for its Black Box Data Analytics platform. Red Cat's drone black box flight recorder is the first distributed system with security and encryption that regulators and insurance companies can trust. The company's drone analytics and flight log storage allow flight replay with customizable reports that can determine fault or performance issues. The company's Black Box Data Analytics Beta User Program is currently accepting applications at http://www.redcatpropware.com/#/beta_application.
Interested parties can also visit Red Cat Propware representatives in booth 323 at the event.
ABOUT RED CAT PROPWARE
Red Cat Propware is an analytics and storage company utilizing artificial intelligence. Red Cat's drone black box flight recorder is the first distributed system with security and encryption that regulators and insurance companies can trust. The company's drone analytics and storage allow flight replay with customizable reports that can determine fault or performance issues. Red Cat Propware's features include encrypted flight logs, distributed blockchain encryption, drone self-diagnosis AI