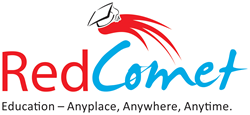 PROSSER, Wash. (PRWEB) September 12, 2018
Red Comet is introducing new high school courses that are geared to help students explore different career options.
High school is a great place to explore future careers and smart students try to hone in on their career choices by exposing themselves to various career options available to them. Red Comet offers more than 35 different courses that help students navigate various career pathways like business, health and technology.
Beginning September, Red Comet is launching several courses that will allow students to gain a personal understanding of their fit and potential for various careers. In the Advertising and Sales Promotions course, students learn how marketing campaigns, ads, and commercials are conceived and brought to life. This course will help them decide if a job in this exciting, fast-paced industry is something they want to pursue. The Forestry & Natural Resources course teaches students topics such as environmental policy, land use, water resources, and wildlife management. They will also learn about forestry related careers and important issues facing forestry professionals today.
The military offers many career opportunities and tracks than most people don't know about. In Introduction to Military Careers, students explore not only the four branches of the military (and the Coast Guard) but also learn about the types of jobs available in each of these branches. From aviation to medicine, law enforcement to dentistry, the military can be an outstanding place for students to pursue their career dreams.
Most adults dream about someday opening their own restaurant. But not many have the skillset or the background knowledge to do this. The Restaurant Management course explores the various aspects related to running a restaurant—from ordering supplies to hiring and firing employees. This course covers the different types of restaurants; managing kitchen and wait staff; food safety and hygiene; customer relations; marketing; using a point-of-sale system; scheduling employees; and dealing with difficult guests. Restaurant Management prepares students for a steady career, irrespective of whether they plan to buy a fast food franchise, operate a casual sit-down restaurant, or oversee a fine-dining establishment.
Red Comet is a Fully Accredited (NWAC, AdvancED) organization that has been offering online courses for credit since 1999. Students have over 175 courses to choose from. Many of these courses are also approved by the NCAA organization. In the State of Washington, the Office of Superintendent of Public Instruction (OSPI) has approved the Red Comet program as a "Multi-District Online Provider," "Online Course Provider," and "Online School Program." In a statewide survey, Red Comet received high ratings for student satisfaction. Students use the Red Comet online program for original credit, credit retrieval, and credit recovery.
For Immediate Release
Contact Information:
Dr Jay Srinivasan
Managing Director